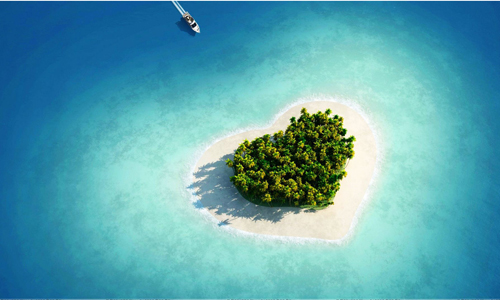 With Valentine's Day upon us, love is definitely in the air. Whether or not you can get away for the weekend, remember that romantic holidays can be a great way to keep that relationship spark going.
1. Portofino, Italy
This coastal Italian city is the epitome of romance. A fishing village with one of the world's most picturesque harbors, Portofino combines cozy village life with neat shops, quaint eateries and a couple-friendly nightlife.
Rent scooters and drive up the Italian Riviera to Paraggi Beach. You can sip coffee, drink wine, eat pasta and finish the afternoon with gelato, proper Italian-style.
"We went to a number of different Italian destinations but Portofino was the best part of our honeymoon," says Mara Sabry, 29, now married for two years. "Everything is just so beautiful, so you can't help but hold hands and feel happy."
Tickets cost about LE2,600 per person, and stay at the Hotel Splendido if you want to live it up. Or for beauty on a budget, try the Domina Home Piccolo.
2. Corsica, France
This French island, which offers a different take on France, is a beautiful getaway. If you go in summer, coast along the beaches of Bonifacio in a boat and stop at Fazzio Bay, where clear waters and white sand complete the perfection.
Once home to both Napoleon Bonaparte and Christopher Columbus, the mixture of Italian and French influences make this place both beautiful and delicious.
"I sometimes dream of the seafood we devoured at La Voute," says Judy Hakim, 37, who ordered langoustine and sat in their much coveted outside seating area on a summer trip a year after getting married.
The Centre Village is a great place for lavish dinners and evenings out. Fly to Milan for LE2,600 and take EasyJet to Corsica from there for 100 euros, or about LE900.
3. Brooklyn, NY, US
With ticket prices beginning at about LE6,000,
traveling to the US for a vacation is no easy decision. That said, hotels and food in the US are often much cheaper than in Europe.
Bring your own bottle of wine to Lucali's pizza parlor for a typical New York evening, or dine with a view at the River Cafe.
"I was on a business trip when my husband and I went to New York," says Daisy Nader, 39. The couple's favorite part of the trip? The roller coaster on Coney Island. "The rush was very romantic," says Nader.
Hotel recommendations include the Marriott New York Brooklyn Bridge for about US$260 a night, or the Ritz Carlton Central Park for about $700.
4. Cordoba, Spain
Once known as the peaceful meeting point of Islam, Judaism and Christianity, Cordoba is intimate and beautiful.
"When my wife suggested Spain for a honeymoon, I never expected Cordoba to be the highlight," says Samir Ibrahim, 39.
Dine at romantic taverns in the old quarter and stay at the Hotel Plateros to keep things unpretentious. Fly into Madrid for LE2,400 and take a high-speed train for 25 minutes to reach this beautiful city.
Tickets for the AVE train cost about 54 euros to Cordoba. The province is littered with museums, cathedrals, temples and mosques, if you are into sightseeing, and you can even get around by horse and carriage if you wish.
Ibrahim's restaurant recommendations: El Churrasco for excellent steaks and Regadera for contemporary dining.
5. Masai Mara National Reserve, Kenya
Although safari travel may not sound romantic, you could be living it up with luxury tents and Victorian baths at the Governors' IL Moran Camp by the Mara River. A romantic tent for two here will set you back about $1000 a night.
For $700 a night per person, you can traipse about the Serengeti with Serengeti Under Canvas, lodgings that move as the animals migrate. These trips are often self-contained — you eat and sleep at your camp — but the luxury camps can offer excellent food and "the closeness you derive from being 'out in the wild' is truly priceless," says Amina Kamal, 35, who spent her honeymoon in Kenya.
Fly down to Nairobi for about LE3,000.
6. Mnemba, Zanzibar, Tanzania
Part of the Zanzibar archipelago, Mnemba offers whale watching, dolphins and fabulous snorkeling. Stay in your own cottage at the Mnemba Island Lodge, where dinner is served for you and your loved one on the beach.
Karen and Yasser al-Sayed spent a part of their African honeymoon on the island. "We loved how beautiful it was," says Yasser. "But you can't last there long … there isn't much else to do but be together!"
Karen suggests it as a good spot for writers or artists — the environment is breathtaking. Island-hop in Zanzibar and hit the wooden-stilted bungalows of the Fundu Lagoon on Pemba Island as well. Flights to Tanzania will cost you about LE2,800.
7. Rio de Janeiro, Brazil
If you choose to stay at the Casa Beleza in Santa Teresa, you're sure to enjoy the romance of Rio without breaking the bank. Staying in Santa Teresa will give you all the romance of Brazil a step away from the madness that is Rio.
But there's no boredom here — Rio has a night life that's probably hotter and more fabulous than just about anywhere else. Beautiful beaches, anyone?
Couple Sandra Nagi and Karim spent their days at Recreio das Bandeirantes, a beach that proved a little less crowded than the beaches of Ipanema. The northern part of the city offers Tijuca where there is good local food.
The flight out to Brazil will set you back a steep LE10,000, so if you're heading in that direction, make sure you enjoy your trip to the max.
"Have drinks (or stay) at the Copacabana Palace and enjoy a romantic sunset from Sugar Loaf mountain," advises Nagi. The couple also took time to take a boat down the beautiful Costa Verde.
This piece was originally published in Egypt Independent's weekly print edition.