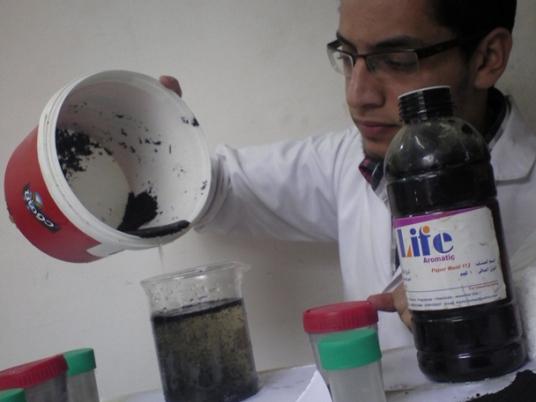 Made to believe that it is useless, farmers get rid of their post-harvest agricultural waste by burning it, creating a seasonal toxic black cloud that has serious environmental and health implications.
To find a solution to this, a group of science students at Banha University have launched an initiative to convert agricultural wastes into activated carbon for the industry. Under the name of "RecycloEgy," the project was nominated among the finalists for the "Fekrety" competition organized by AUC.
Yahia Mohamed Reda, the founder of RecycloEgy, explains that he thought of the idea while participating in a training with a water company.
"I realized that activated carbon isn't produced in Egypt or the Middle East although it has many applications and usages," he says, adding that as a result, Egypt has to import over 6,000 tons of carbon each year, at a costly price, from countries like China, US, India, Taiwan and Philippines, he says.
"This made me feel ashamed so I decided to dedicate my graduation project to this issue. Under the supervision of my professors, I studied the possibility of converting agricultural waste such as sawdust, bagasse (the fibrous matter that remains after sugar cane or sorghum stalks are crushed), corncobs and rice straw into activated carbon using some chemicals within a specific temperature," he adds.
According to Reda, this project can help the country overcome its carbon shortage and reduce its imports, turning Egypt into the first carbon producer in the Middle East. This, in turn, will help create a vital market allowing Egypt to export its production to African and Arabian Gulf countries, yielding high profits.
He required people have specific qualifications in order to join the RecycloEgy team. "Those young men who joined the team were very ambitious and were ready to take risks and create a change with their hands instead of waiting for someone to hire them. In addition to science specialists, we have marketing and financing experts who draw our future plans," he notes.
Mohammed Zakareya, an MA student who is responsible for the research and development of the project, explained how the importance of the activated carbon made him to join the project at the first place. In his opinion, it can provide solutions for a lot of problems Egypt suffers from nowadays.
"In addition to using it for water purification and desalination, the activated carbon can provide an alternative for chlorine, which is widely used by water purification and sterilization systems in Egypt, although it was proven to cause cancers when it interacts with the organic materials that exist in the water," he says.
He adds that activated carbon has the ability to remove iron and manganese (which can cause kidney failure) from the water, as well as pesticides, bacteria and algae that result from mixing agricultural sewage with drinking water.
Moreover, Zakareya explains that activated carbon is considered very important for the sugar industry, as it can be used for whitening, crystallizing and purifying sugar from its impurities.
It can also reportedly be used in gold mines to separate gold particles from other materials, and be used to purify the exhaust systems of factories.
"Nowadays, I'm studying the possibility of adding some Nanomaterials to the activated carbon to improve its properties and effectiveness," he says.
"[In] the long term, I think the activated carbon will contribute to protecting Egypt from the black clouds that consist of the accumulation of factories' vapors and gases and burning the agricultural wastes by the farmers," he adds.
Unfortunately, the main obstacle the project faces now is financial. According to Reda, the project's team members don't have enough financial resources to start implementing their idea, so they decided to depend on themselves to collect the needed money to start implementing their dream.
Thus, the project will pass through three big stages. The first one will continue for six months and it will include the initial step of establishing a company in Banha for garbage collection at very low fees.
The second stage will revolve around converting organic waste into organic fertilizers and biogases that can be used as fuels, in addition to recycling paper, plastic and other solid wastes to produce useful materials that can be sold at cheap prices.
Finally, after collecting the required money, the team will start implementing their main goal of turning agricultural waste into activated carbon, coal or bio-oil, and this will be the third and last stage.
"Through this environmentally friendly project, we're supporting the green economy in Egypt that aims at optimizing the unexploited environmental resources," Reda says.
He adds, "My dream is to start implementing this project soon and empower Egypt to control the market in the Middle East and Africa. I call [on] the Egyptian government, NGOs and businessmen to support our project, [which] will open the door to improve Egypt's economy enormously."