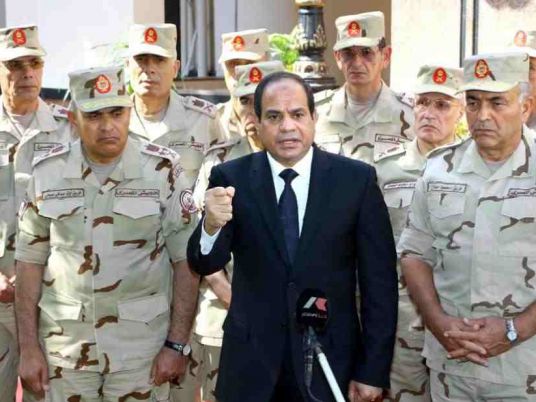 A columnist at a widely-distributed, independent newspaper has urged Egypt's president Abdel Fattah al-Sisi to adopt a fascist stance in dealing with terrorist threats as the latest episode in bloody attacks on security forces claimed the lives of at least 27 soldiers in North Sinai.
"I will never forgive you for the bloods of our martyrs until I see you [acting as] a fascist. Get angry, Mr. President. I won't cease neither to praise you nor to spur you until the Muslim Brotherhood and their dogs are history," wrote Al-Watan's Mahmoud al-Kardousy.
Kardousy demanded the president open the door for volunteers for military enlistment, presumably to take part into the army's operations against extremist groups that had claimed responsibility for the killing of dozens of army and police troops since the ouster of former president and Muslim Brotherhood leader Mohamed Morsy.
"This is not just our army, it is our flesh and blood," Kardousy said in his article. "This is a moment of anger, not sadness," he added.
Egypt's government has been met with increased accusations of restricting critical journalism since Morsy's overthrow, with rare opposing voices occasionally met with fierce attacks by the government's loyalist media figures.
On Monday, Chairman of the Journalists Syndicate, Diaa Rashwan, urged member to report colleagues who instigate against police and the army, as he put it.