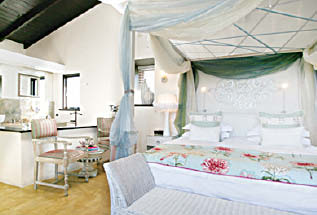 Only a few meters from the waves of the Indian Ocean lies Teremok Marine boutique lodge, in Durban, South Africa. The homey hotel, named for the Russian word for "little hideaway," offers a matchless experience for guests and captures the essence of luxury, privacy and exclusivity.
Originally the home of Constantine "Kotcha" Vladykin, a survivor of the Russian Revolution and a famous resident of the village, the snug lodge, located on the elegant Marine Drive in Umhlanga Rocks Village, boasts eight lavish suites: Juliet, Durban View, Douglas, Palm, Zodiac, Beethoven, Vladykin and Milkwood, which was named after the Vladykin family home.
Each suite tells its unique story through its scrupulous and exceptional decor, special fragrance and its own CD of music.
As the name may suggest, Milkwood is an all-white suite with a modern theme and crude pale walls. The dreamy air contrasts with its dark timber ceiling, while a pinch of light blue thrown here and there creates a feeling of marine bliss.
The Douglas is named after one of the Vladykins. Its walls are adorned with pictures of Marilyn Monroe, who allegedly visited the house with James Dean.
The main colors of this retro suite are white and green, and the palm used to decorate the suite pays homage to its ancient African heritage.
Teremok's living area on the first floor is elegant, spacious and well-lit. With a breathtaking view of the ocean and walls adorned with black-and-white photographs from the Vladykin family album, it takes only the fireplace to complete the cozy vibe.
In contrast, the hotel's dining room is neat and modern, with wooden dining tables and slick leather chairs mixed with colorful little African statues. The open kitchen accentuates the contemporary design of the eating area and creates a comfortable sense of space.
Breakfast is served between 7:30 am and 10 am. A menu of the daily specials is placed on all tables, and freshly baked muffins and cheese pies are available at all times for snacks.
While the "Honesty Bar" offers a collection of snacks such as nuts, chips and biltong (dried meat) to munch on while having a drink, and coffee and tea are free of charge, the only full meal offered at Teremok is breakfast.
A big aquarium filled with colorful and exotic fish separates the reception from the gym and the spa entrance. A small gift shop offers an exclusive collection of typical South African handmade crafts and souvenirs.
A collection of DVDs is available in the reception for guests to borrow and watch, free of charge. Teremok is a smoke-free establishment, and no children under 16 are allowed on the premises. Visit www.teremok.co.za for more information.
This piece was originally published in Egypt Independent's weekly print edition.