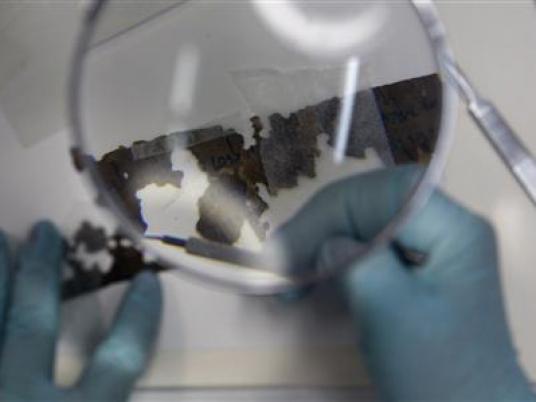 It's hard to believe the National Gallery Singapore is just a few months old.
Since flinging open its doors in November 2015, it's become the go-to place for Southeast Asian art and Singaporean history.
Ten years and $374 million in the making, the venue occupies buildings that once housed the city-state's Supreme Court and City Hall.
In their place is a prime cultural center that showcases the best regional art and preserves Singapore's past.
Here are seven highlights.
Time travels
Old and new collide in Singapore's national gallery 03:01
The gallery has a distinct advantage when it comes to looking back at Singapore's history.
The former court and government buildings it stands in witnessed a lot of it:
Lord Louis Mountbatten's 1945 announcement of the surrender of the Japanese forces.
War crimes trials in 1946 of Japanese officers.
Founding father Lee Kuan Yew's swearing in as Singapore's first prime minister in 1959.
Stark reminders of Singapore's colonial past, the two buildings were designed by the British in the 1920s.
The neo-classical City Hall — formerly known as Municipal Building — was opened in 1929, and the Supreme Court a decade after.
What today's visitors won't see is a time capsule laid beneath the foundation stone of the Supreme Court Building by the then-governor Sir Thomas Shenton Whitelegge Thomas on April 1, 1937.
Scheduled for opening in the year 3000, it contains newspapers and currency of the time.
SG Old Supreme Court is a mobile app (iOS and Android) that offers an alternative way to learn about the building's past.
Rotunda Library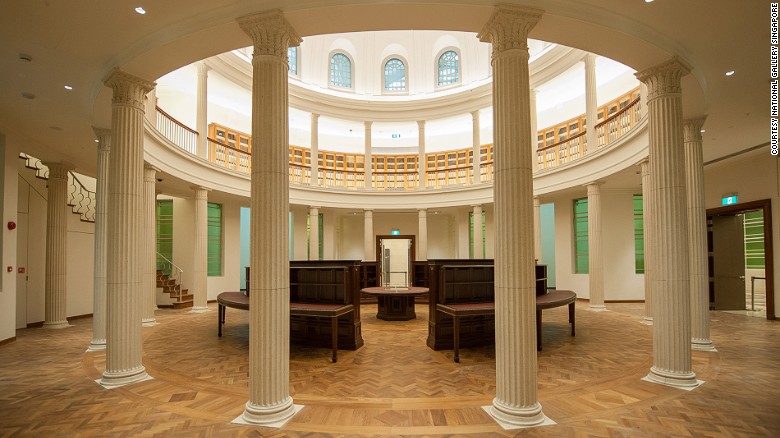 The former law library of the Supreme Court building has been restored to become a resource center for the public.
After renovation, the former law library of the Supreme Court building still retains its scholastic aura.
It has high columns, a domed roof and restored bookshelves.
It's now part of the Resource Centre — a trove of archival material accessible for public view.
Largest painting in the house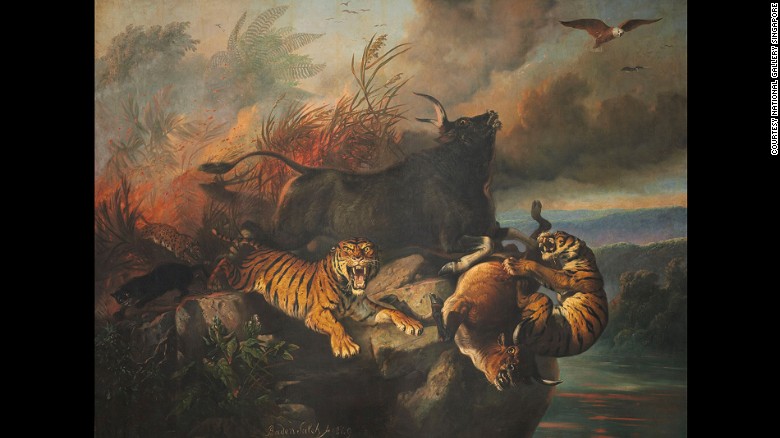 Raden Saleh's "Boschbrand" (Forest Fire) spans an entire wall in the museum.
The artwork "Boschbrand" (Forest Fire) by Indonesian painter Raden Saleh is mounted on a wall all on its own for good reason.
It's huge.
Measuring 396 x 300 centimeters, it's the largest painting in the gallery.
Completed in 1849, the dramatic piece depicts a frenzied scene of tigers and other beasts fleeing a jungle inferno.
It sits in Gallery 2 of the UOB Southeast Asia Gallery.
Largest collection of Southeast Asia's modern art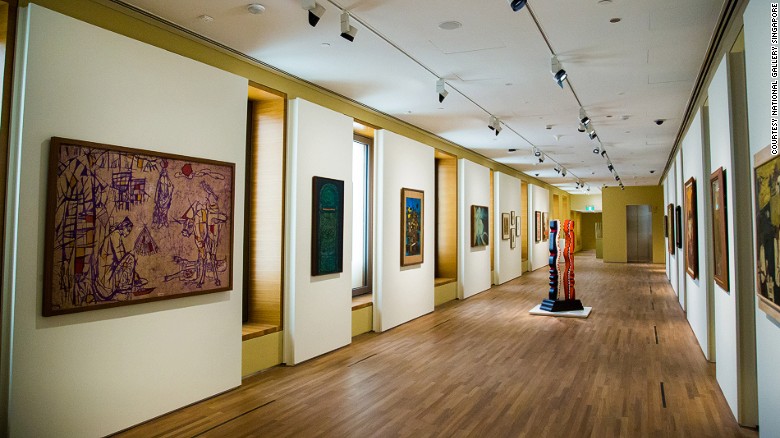 National Gallery Singapore houses more than 8,000 modern Singaporean and Southeast Asian works from the 19th and 20th centuries.
The diverse collection spans years, techniques and artistic movements.
There are factual documentations such as Nguyen Van Nhan's 1902 "Grande tenue de la Cour d'Annam" (Official Dress of the Vietnamese Imperial Court), an album of watercolor and gouache paintings of the exquisite ceremonial outfits.
Other highlights include politicized art like "National Language Class" painted in 1959 by pioneering Singaporean artist Chua Mia Tee.
There are contemporary emotive pieces such as 1997's "Exotic 101" by American-Thai artist Michael Shaowanasai, which consists of a metal pole, a circular platform and a performance video.
There's a Gallery Explorer app to help you meander through the vast exhibits, but only for iOS at time of writing.
MORE: The 'hawkerpreneurs' keeping Singapore's street foods alive
Cool kids' sections that'll make adults jealous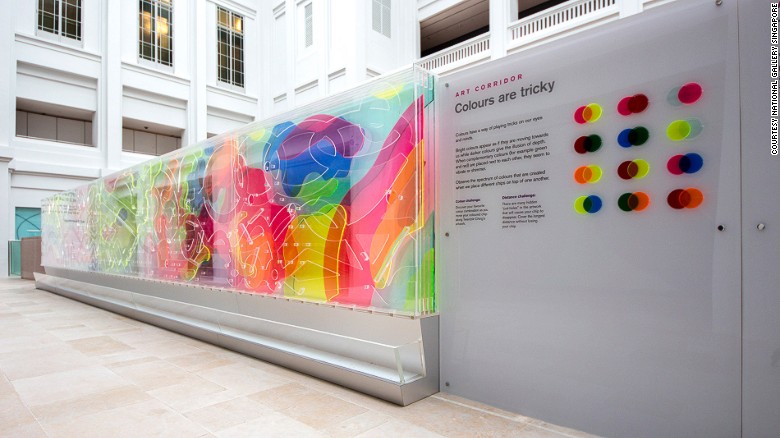 Art Corridor is among installations dedicated to inspiring the gallery's young visitors.
A big chunk of the National Gallery Singapore is dedicated to arts education for children and young people.The Keppel Centre for Art Education has four sections.
An interactive Art Corridor teaches youngsters about patterns, colors and rhythms through puzzles.
Art Playscape's whimsical "tree house" is like an oversized fairytale book that visitors can walk into.
The Project Gallery is captivating, with a giant ark and a bus with wings hanging from the ceiling.
It's also a venue for events and workshop spaces equipped with paper, crayons and room to imagine.
There's also a children's museum where kids can take a closeup look at the workings of an artist's studio.
Drinks with a view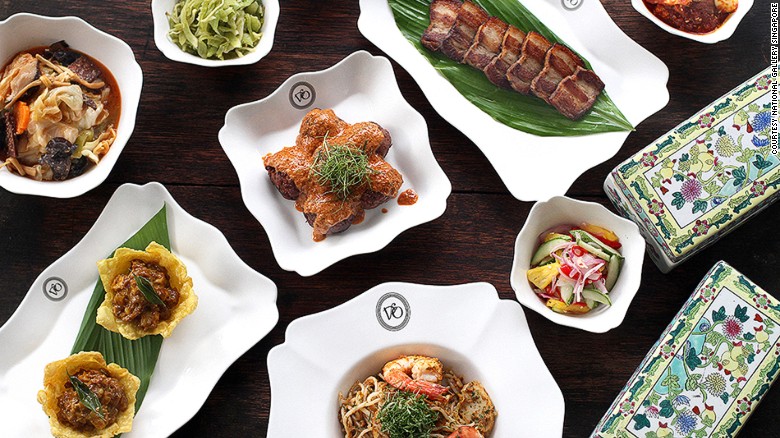 For a taste of (very rich) local cuisine, there's National Kitchen by Violet Oon — Singapore's culinary doyenne — in the museum.
This wouldn't be Singapore if there weren't food and drink options.
Sure enough, the gallery has dining outlets so exciting that the venue has become the city's latest gastronomic destination.
For a taste of (very rich) local cuisine curated by a big local name, there's National Kitchen by Violet Oon.
Enjoying superb views on the upper levels there's rooftop bar Smoke & Mirrors and the lavish Aura restaurant.
Both outlets spill out onto the Padang Deck which overlooks the Padang field — Singapore's "Central Park" in the colonial days and where many important festivities like National Day Parade are staged.
Farther out can be seen the squat roofs of Singapore Cricket Club and Singapore Recreation Club juxtaposed against the spaceshippy Marina Bay Sands and the skyscrapers of Raffles Place.
World's best museum shop?
Gift shops are an inescapable hazard of most museums, but the National's is more of a delight than a chore.
Lauded as one of the world's best before its official opening, the Gallery & Co. store has a distinct focus on locally owned lifestyle brands, artists and designers.
Among the merch on offer: solar-powered watches dispensed from a giant gumball machine for S$69.90 (US$49) a time.
National Gallery Singapore is composed of many galleries within galleries which makes for a good half-day out.
Admission is free for Singaporeans and permanent residents (except for certain special exhibitions) and standard admission for other visitors is S$20 ($14).
Click
here
for the original story