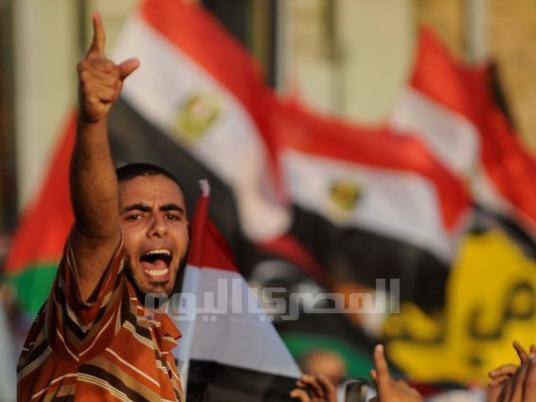 Civilians detained in military prisons sent a letter to President Mohamed Morsy Saturday urging him to release them before it is too late.
"After a long wait and struggle since the revolution to overpower military rule and unfair [military] trials, and after the inauguration of an elected president who vowed to respect the judiciary by canceling military trials, we were surprised by the decision to form a vague committee that has mixed objectives and where the litigant is the arbitrator," the letter said.
"This gives legitimacy to the false trials and the extraordinary military judiciary, leading to the harm of the reputation of Egypt and its economy, as well as the humiliation of thousands of Egyptian families."
The detainees rejected the committee, which they labelled "disastrous", saying: "In our opinion the [committee] does not have a role other then absorbing the anger of the Egyptian youth, who were being dragged, beaten and tried by the military in Suez a few days ago, and were abducted in a peaceful march in Nasr City, under your rule, Mr President."
The message said thousands of citizens have been deprived of the right of litigation before a civilian normal judge.
"They were thrown into solitary dirty cells that gave them diseases, were beaten and tortured with electricity. Your sons and your daughters have been indecently assaulted in cold blood, humiliated and insulted. Their fathers and mothers have been insulted with the cheapest of all curses. It hit Egyptian military ethics at the core that they copied their brothers in crime, the [now-dissolved] State Security Investigations Service," the letter continued.
"Haven't you heard, Mr President, the cries of your tortured subjects?… Haven't you seen the screams of your sons and the weeping of your daughters, who have been indecently assaulted, whose bodies have been torn and whose blood has bled and is still bleeding, haven't you read and seen the news reports telling for months of our humiliation and suffering as well as that of our families?" it said.
They called on Morsy to visit the prisons "where those arrested since the outbreak of the revolution lie to this day."
Edited translation from Al-Masry Al-Youm