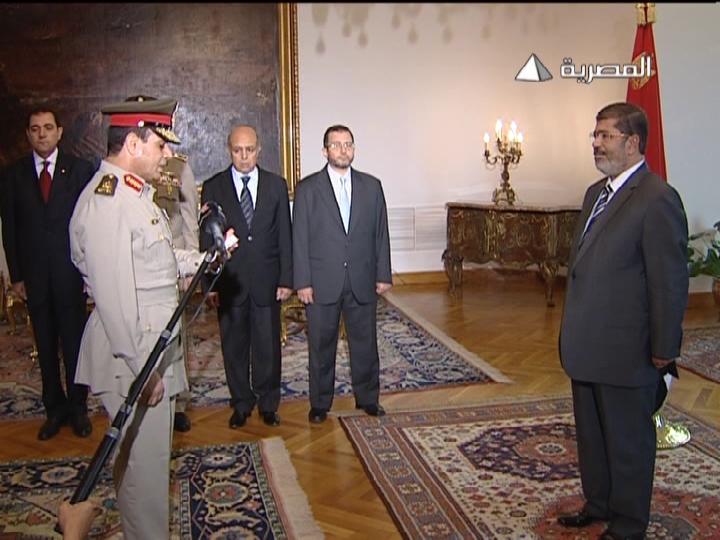 Citizens in a growing number of governorates are signing petitions to call for a return to military rule.
In Qalyubiya, five new petitions demanding Defense Minister Abdel Fattah al-Sisi take over leadership of the country were notarized Wednesday. One of the positions was organized by a Wafd Party office, while another was created by a Popular Current Party member.
Meanwhile in Fayoum, Ayman Afifi, a grassroots coordinator of such a petition, said his group had already gathered 1,300 signatures so far in the community of Etsa. Afifi added campaigners are reaching out to other villages and towns as well.
In Monufiya, Samir al-Bambawy, the farmers syndicate chief of Shebin al-Kom town, organized the area's first petition for a military leadership shuffle. He said that he started a campaign for signatures that he will submit to the Defense Ministry, saying that he believes the number of people demanding that military leaders take over power from President Mohamed Morsy is increasing.
Citizens in Sohag and Beheira Governorates have also started similar petitions.
According to Ahmed Roshdi Salam, a Justice Ministry spokesperson, the government had received more than 100 such petitions as of Monday.
Citizens in Ismailia, Port Said, and Suez Governorates began organizing petitions last month, claiming that President Mohamed Morsy and his government are incapable of ending clashes throughout the nation and fixing the country's embattled economy.
Residents of the Suez Canal cities also say they are frustrated by the month-long curfew Morsy imposed in January after deadly clashes broke out between protesters and police. The wave of violence was triggered by the 26 January court ruling in the Port Said football stadium massacre.
So far, military leaders have not responded to the petitions or growing calls for their return to power.
The tradition of citizens creating petitions came about after the first world war, when thousands of Egyptians submitted petitions authorizing politician Saad Zaghloul and his coalition to speak on behalf of the public at a reconciliation conference in Paris, where Egypt demanded independence from the British.
The tradition was revived in 2009, when one million people signed a petition authorizing Mohamed ElBaradei to represent them during discussions over constitutional amendments and political reform.
Edited translation from Al-Masry Al-Youm