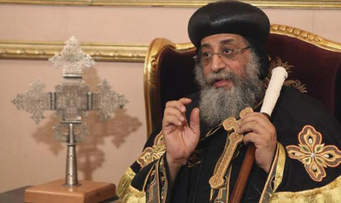 Twenty Christian families have requested political asylum in Australia, which is being considered at present. It will be a good thing to offer these families a chance at a new life, he underlined.
Pope of the Coptic Orthodox Church, Twadros II, stated that Egypt has been suffering from economic and education problems since the outbreak of the January 25 and June 30 revolutions.
'Egypt is a bled country', Pope Twadros II told the Australian news network ABC, saying that small villages face lifestyle pressures every day.
Pope Twadros II pointed out that western countries have adopted the wrong Middle East policies. These strategies have led to the displacement of Syrian and Iraqi Christians and affected the stability of other countries. 'Western countries have to respect our customs, language, values and everyday life," Pope Twadros II asserted.
Senior-level ecclesiastic source told Al-Masry Al-Youm that Pope Twadros II took into account the image of Egypt and the human dimension of these families during the interview with ABC news network.
Meanwhile, the source denied that neither Coptic Orthodox Church nor the bishop of Sydney requested Australian authorities arrest activist Christina Sloanes, who called for the administrative reformation in the Archdiocese of Sydney.
Edited Translation from Al-Masry Al-Youm