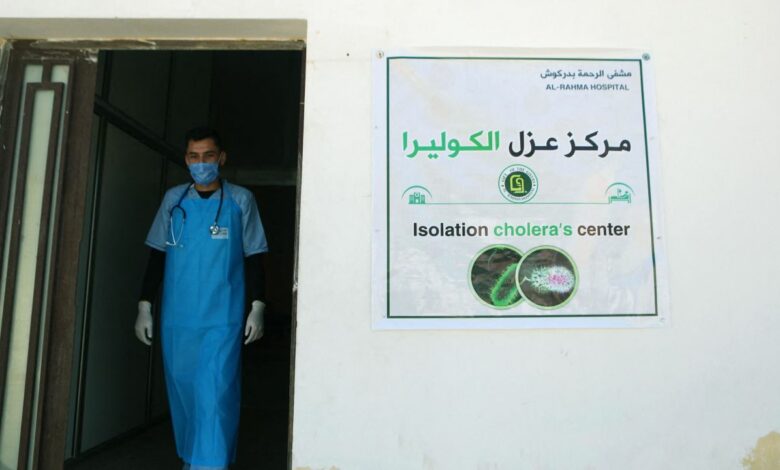 Abu Dhabi
CNN
 — 
Cholera is making a comeback
in the Middle East and Africa, and its rapid rise has experts sounding alarms about the damage it is causing.
The disease had been in decline for years, but 2022 witnessed what the United Nations called "a worrying upsurge" around the globe. The World Health Organization (WHO) says that since January, 29 countries have reported outbreaks. For the previous five years, fewer than 20 countries on average reported outbreaks. The leading cause of the rise, says WHO, is water contamination.
The illness can be brutal, and is an indicator of poverty and social inequity, experts say.
Today, numbers are rapidly increasing as the disease spreads in parts of the Middle East and Africa.
That has led the International Coordinating Group (ICG), the WHO body that manages emergency supplies of vaccines, to "temporarily suspend the standard two-dose vaccination regimen in cholera outbreak response campaigns, using instead a single-dose approach," WHO said last week.
The suspension of the two-dose approach allows for the vaccine to reach more parts of the world, it said. While the one-dose strategy has been proven to be effective, said WHO, protection appears to be lower in children.
Research has demonstrated that a one-dose vaccination can provide immunity for six months on average, Salim Oweis, communication officer at UNICEF's Middle East and North Africa office, told CNN, adding that this "can be enough for stopping transmission during an epidemic." The two-dose regimen, with a 15-day interval, offers protection for three to five years.
The rapid rise in cases has put a strain on WHO and its partners' ability to respond quickly, said Dick Chamla, emergency preparedness manager for the Africa region at WHO. "The situation is made worse by the overlap between these epidemics and ongoing humanitarian crises and other catastrophes," Chamla told CNN.
Marked by sudden and acute watery diarrhea, cholera can kill within hours if left untreated, warns WHO. It can, however, sometimes be treated with oral rehydration solutions in mild infections.
First documented in the 19th century, it went on to rise into six pandemics. Some parts of the world have been living through the seventh pandemic since the 1960s and 1970s, including countries in South Asia and Africa, says WHO.
UNICEF on Monday called for immediate action as cholera spreads through Syria and Lebanon, saying the disease is threatening the survival of children.
"Malnourished children are more vulnerable to developing severe cholera disease," Bertrand Bainvel, UNICEF's deputy regional director for the Middle East and North Africa, said in the statement.
"In the Middle East, more and more people suffer from food insecurity and malnutrition due to different factors linked to conflict, [economic] crisis, drought and water scarcity, making them more vulnerable in case of cholera epidemic," said Oweis.
Lebanon, which hosts 1.5 million Syrian refugees, recorded its first case in three decades in October. It has since reported 718 cases and 11 deaths as of October 24, according to the Lebanese ministry of health.
"In refugees' camps and informal settlements, the population is mostly composed of women and children living often in precarious situations with inadequate health, water and sanitation facilities," said Oweis, adding that as of October 22, more than half of the suspected cholera cases were children under 15 years old "living in fragile settings."
War-torn Syria has seen one of this year's worst outbreaks. The disease has spread through the country's northwest and northeast, and is linked to contaminated water near the Euphrates River, according to a report by Médecins Sans Frontières (MSF), or Doctors Without Borders. More than 13,000 suspected cases have been reported across the country, added MSF, including 60 deaths as of October 14.
UNICEF has made an urgent appeal for $40.5 million to expand its response in Syria and Lebanon alone.
Some African countries are also experiencing worsening outbreaks, including those who have already been struggling with the disease for years. Communities in Somalia, Cameroon, Malawi, the Democratic Republic of Congo and Benin have all reported a surge in cases, according to disease outbreak reports by WHO.
Ifedayo Adetifa, director general of the Nigeria Centre for Disease Control and Prevention (NCDC), whose country has been dealing with a rise in cholera cases amid the worst flooding in a decade, called for international help for nations struggling with the disease.
"Global health is supposed to be about solidarity," Adetifa told CNN. "And by solidarity we don't mean absolving governments of their responsibility, but it means that it is important that the countries that are less affected, and that have resources to spare, also come in and help," he added.
International support, he said, can come in the form of vaccine programs and other investments in sanitation and hygiene.