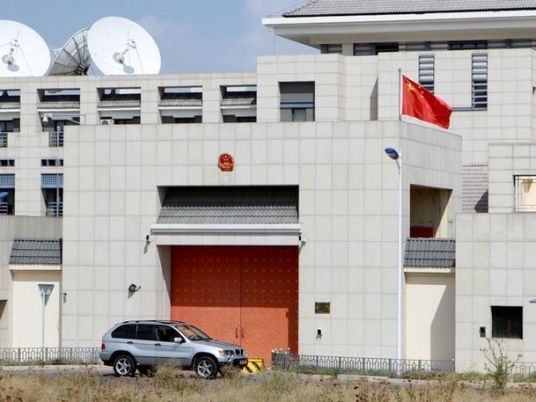 A suspected suicide car bomber rammed the gates of the Chinese embassy in the Kyrgyz capital Bishkek on Tuesday, killing the attacker and wounding at least three other people, officials said.
Officials from both countries described the assault as a terrorist act, and Kyrgyz President Almazbek Atambayev ordered the government to take extra counter-terrorism measures in the capital and regions, his office said in statement.
China condemned the attack and urged Kyrgyz authorities to "quickly investigate and determine the real situation behind the incident.
"China is deeply shocked by this and strongly condemns this violent and extreme act," foreign ministry spokeswoman Hua Chunying told a regular news briefing in Beijing.
The ministry later said China would "resolutely strike against all forms of terrorism" and protect the safety of its people and government organizations overseas.
A Kyrgyz Interior Ministry spokesman said the car exploded inside the compound. Police cordoned off the embassy and adjacent area, and the GKNB state security service were investigating the bombing that occurred at about 10:00 a.m. (0400 GMT).
Three embassy staff suffered minor injuries and had been taken to hospital, but no organization claimed responsibility, Hua said.
China's state news agency Xinhua reported that five people were wounded: two security guards and three Kyrgyz nationals working at the embassy.
Authorities in Kyrgyzstan, a mostly Muslim former Soviet republic of 6 million people, routinely detain suspected militants they accuse of being linked to Islamic State, which actively recruits from Central Asia.
A Turkish official said in June that one of three suspected Islamic State suicide bombers involved in the deadly attack on Istanbul's main airport was a Kyrgyz national.
An anti-Chinese militant group made up of ethnic Uighurs – a Turkic-language speaking, mainly Muslim people living in China's Xinjiang region – is also believed to be active in Central Asia.
Some security experts have questioned the group's cohesiveness, however, and say China's policies in Xinjiang, where hundreds have died in recent years in unrest blamed by Beijing on Islamist extremists, have contributed to the unrest.
In 2014, Kyrgyz border guards killed 11 people understood to be members of that group who had illegally crossed the Chinese-Kyrgyz border.
Attacks on Chinese missions abroad are rare but in 2015, an Islamist militant attack on a hotel in Mali killed three Chinese citizens, and in Pakistan, Chinese workers have occasionally been targeted by what police say are nationalists opposed to Beijing's plan to invest tens of billions of dollars in a new trade route to the Arabian Sea.
That is part of China's "One Belt, One Road" project to open new markets via Central Asia, South Asia and the Middle East.