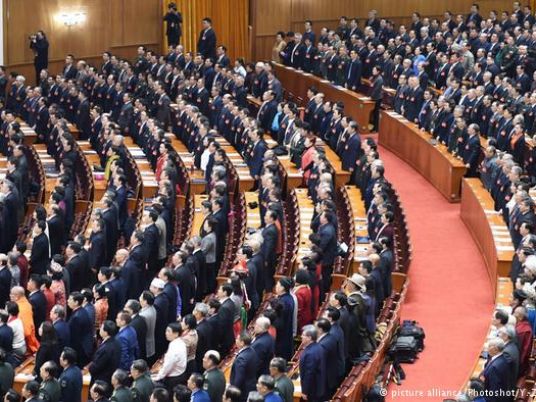 China's ruling communist party's National People's Congress (NPC) has started its annual session. The opening speech from premier Li Keqiang focused on economic growth, pollution, and infrastructure spending.
In remarks prepared for his delivery to the 3,000 delegates at the opening session of the NPC on Sunday, premier Li Kegiang said the economy would expand by about 6.5 percent in 2017. China targeted growth of 6.5 to 7 percent last year.
Gross domestic product grew 6.7 percent in 2016, the slowest in 26 years. China plans to invest in railway construction, highway and waterway projects. The 2017 target for broad money supply growth was cut to around 12 percent from about 13 percent set for 2016. The government's budget deficit target was kept unchanged at 3 percent of gross domestic product (GDP).
The target for consumer price inflation this year was kept unchanged at 3 percent. China should have higher levels of vigilance against risks from non-performing assets, debt defaults, shadow banking and internet finance, according to Li's prepared remarks.
Pollution controls
There was also a commitment to "make skies blue again" as sulfur dioxide and nitrogen oxide emissions would be cut by 3 percent this year. China will work harder to address pollution caused by coal burning, according to the report released ahead of the speech. All small coal-fired furnaces in established districts of cities at the prefectural level and above would be shut down in 2017, it said.
China would step up work on upgrading coal-fired power plants to achieve ultra-low emissions and energy conservation by 2020. There would also be more monitoring of industrial pollution.
China also opposed all forms of protectionism and would "become more involved in global governance and steer economic globalization," according to a tweet from the People's Daily, China.

Chinese troops on parade in Beijing (AP via DW).
Defense Budget on Schedule
China announced heading into the Congressional session that its defense budget would increase by about 7 percent in 2017. That is a lower than in previous years amid a slowing economy and tensions in the South China Sea. The Chinese defense budget grew 10.1 percent in 2015 and 7.6 percent in 2016.
The trend of reducing defense budget increases is "the new normal, an acknowledgement that Chinese growth is plateauing as a whole," Alexander Neill, a senior fellow of the Asia-Pacific security for the International Institute for Strategic Studies told AP.
Total defense spending would make up approximately 1.3 percent of projected Chinese GDP in 2017, according to NPC spokeswoman Fu Ying.
China's defense budget is the second largest in the world, but trails far behind the US. China's defense budget is expected to grow to $233 billion (219 million euros) by 2020, while the US defense budget topped $600 billion in 2016.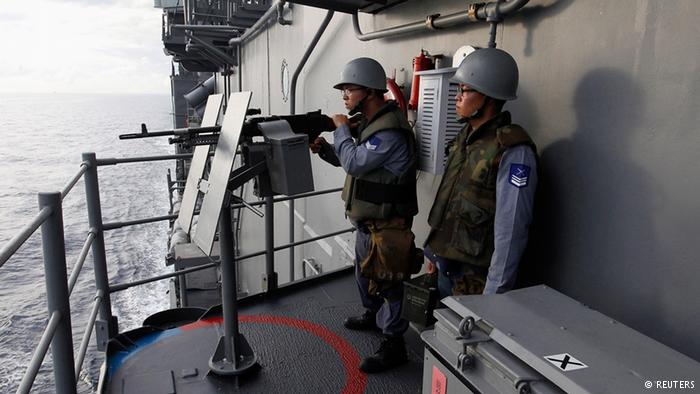 Taiwan navy soldiers in a military drill (Reuters via DW)
Taiwan and Hong Kong
Li's prepared speech also made it clear that China will oppose and contain Taiwan independence.
Taiwan President Tsai Ing-wen and her ruling Democratic Progressive Party have mooted the island's
formal independence. As a result, Beijing cut off an official dialogue mechanism with Taipei.
"We will never tolerate any activity, in any form or name, which attempts to separate Taiwan from the motherland," Li said in a report made available before he made his speech.
Li also said the idea of Hong Kong independence would lead nowhere. Beijing would ensure that the principle of "one country, two systems" was applied in Hong Kong and Macao "without being bent or distorted".
The NPC runs concurrently with a separate body, the Chinese People's Political Consultative Conference (CPPCC), which started Friday.