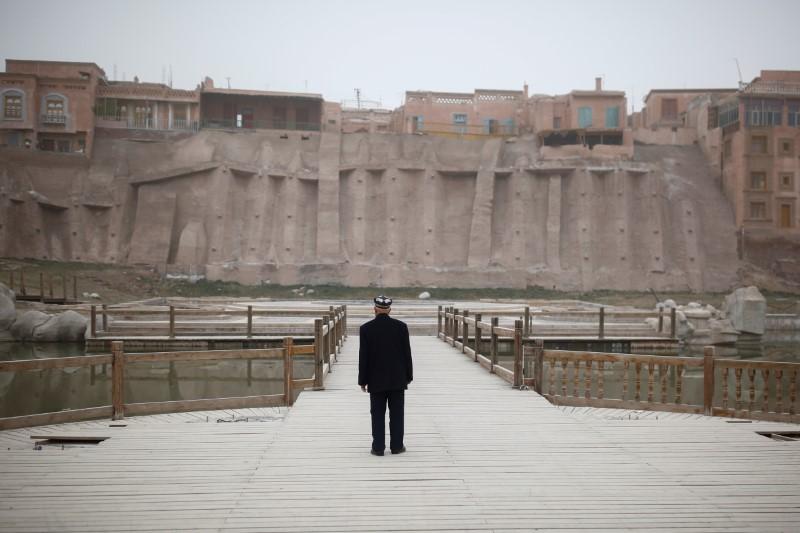 China rejected on Monday allegations raised by a UN panel that 1 million Uighurs may be held in internment camps in the restive Xinjiang region, but said that some people underwent re-education after being deceived by extremists.
Hu Lianhe, deputy director general of the United Front Work Department of the CPC Central Committee, said that authorities in the far western Xinjiang region protected the full rights of all citizens equally.
China says that Xinjiang faces a serious threat from Islamist militants and separatists who plot attacks and stir up tensions between the mostly Muslim Uighur minority who call the region home and the ethnic Han Chinese majority.
"The argument that 1 million are detained in re-education centers is completely untrue," Hu told the UN Committee on the Elimination of Racial Discrimination on the second day of its regular review of China's record.
"On freedom of religious belief, Xinjiang guarantees citizens freedom of religious belief and protects normal religious activities," he said.
"Those deceived by religious extremism … shall be assisted by resettlement and re-education," he added.
Gay McDougall, a panel member, said on Friday it had received many credible reports that 1 million ethnic Uighurs in China are held in what resembles a "massive internment camp that is shrouded in secrecy, a sort of no rights zone".
"To say that they don't violate rights of minorities does not prove anything. We have to more than a denial of allegations," she told the Chinese delegation on Monday.
"I notice that you didn't quite deny that these re-education or indoctrination programs don't take place," she added, seeking clarification on how many people undergo re-education.
Hu said China has clamped down on "extremist and terrorist crimes" in Xinjiang in accordance with the law, saying that there had been assassinations, explosions and poisonings there.
But, he said, it did not target any particular ethnic minority or seek 'de-Islamisation" of the region.
Earlier on Monday, in the country's first response to the UN criticism, a state-run newspaper said that massively stepped-up security in Xinjiang has helped prevent "great tragedy".