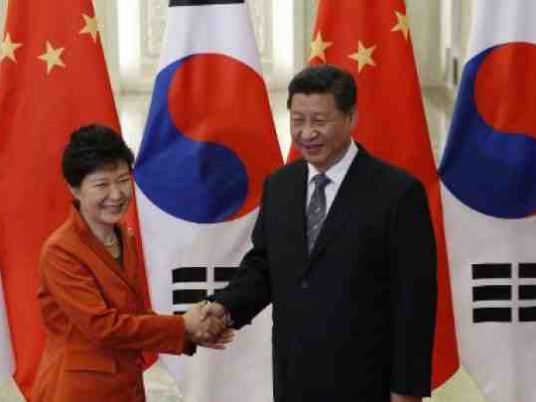 The foreign ministers of South Korea, China and Japan gathered in Seoul Saturday for their first meeting in nearly three years, aimed at calming regional tensions rooted in territorial and other diplomatic disputes.
The three countries have strong economic ties but overall relations have long been tainted by unresolved historical issues dating back to Japan's colonization of the Korean peninsula and occupation of parts of China before and during World War II.
Both Beijing and Seoul have maintained a frosty distance from Tokyo in recent years, although Sino-Korean ties have been enjoying an upswing.
UN Secretary General Ban Ki-moon has described the lack of reconciliation between the three countries — who together account for roughly 20 percent of global GDP — as a "missing link" for peace and stability in East Asia.
And Washington is troubled by what it calls the "strategic liability" posed by the rift between South Korea and Japan — its two main military allies in Asia — and would prefer they focus on forming a united front against an increasingly assertive China.
China and South Korea feel Japan has failed to express sufficient remorse for its wartime past — and both reacted furiously when Japanese Prime Minister Shinzo Abe visited a Tokyo shrine that honors Japan's war dead, including a number of senior war criminals, in December 2013.
The resumption of the annual trilateral meeting of foreign ministers, which was last held in April 2012, marks a step forward and could pave the way for a trilateral leadership summit — possibly later in the year.
There was no set agenda for Saturday's talks, and it is possible the three foreign ministers will seek to focus on less sensitive areas of cooperation like disaster risk reduction and the environment, in order to maintain momentum.
Festering animosities
But Jun Ok-Hyun, a former South Korean diplomat and a professor of international relations at Seoul National University, said the festering animosities could not be ignored.
"As long as these historical issues are not properly dealt with, any meeting, including a summit between the three leaders, won't go much beyond some handshakes and photo ops," Jun said.
While South Korean President Park Geun-Hye and Chinese President Xi Jinping have held two fruitful summits, Park has refused to sit down one-on-one with Abe, while Xi has only managed a brief meeting with the Japanese premier on the sidelines of an APEC gathering in Beijing last year.
Nevertheless, working-level cooperation has been maintained with Japan and China recently holding their first security talks for four years.
Saturday's gathering kicked off with a series of bilateral meetings, with South Korean Foreign Minister Yoon Byung-Se playing host to his Chinese and Japanese counterparts, Wang Yi and Fumio Kishida.
The three-way talks later in the day were not expected to produce any major initiative, but could touch on a number of sensitive issues beyond those that have long troubled regional ties.
Among those is the new Chinese-backed multinational lender — the Asian Infrastructure Investment Bank (AIIB) — that the United States perceives as a threat to the Washington-led World Bank.
Seoul is said to be "positively" considering joining the AIIB, while Japan's stance has been decidedly cautious.
And then there is the US-backed ballistic missile defense system that Washington wants to deploy in South Korea as a deterrent to military provocation by North Korea.
China has warned that deployment of the system, known as THAAD, on the Korean peninsula would undermine regional peace and stability.