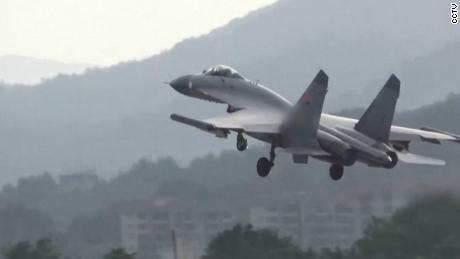 (CNN)China fired multiple missiles toward waters near northeastern and southwestern Taiwan on Thursday, the island's Defense Ministry said, as Beijing makes good on its promise that Taipei will pay a price for hosting US House Speaker Nancy Pelosi.
The Chinese military's Eastern Theater Command said in a statement that multiple missiles had been fired into the sea off the eastern part of Taiwan. It said all the missiles hit their target accurately.
"The entire live-fire training mission has been successfully completed and the relevant air and sea area control is now lifted," China's statement said. Earlier, the Eastern Theater Command said it had conducted long-range, live-fire training in the Taiwan Strait, state broadcaster CCTV reported, as part of planned military exercises around the island.
Taiwan reported Chinese long-range rockets had fallen near its islands of Matsu, Wuqiu, Dongyin, which are in the Taiwan Strait, but located closer to the mainland than the main island of Taiwan. It later said a total of 11 Dongfeng (DF) missiles were fired to the waters north, south and east of the island between 1:56 p.m. and 4 p.m. local time (from 1:56 a.m. ET to 4 a.m. ET) on Thursday.
Chinese state media said that exercises to simulate an air and sea "blockade" around Taiwan had started Wednesday, but offered little solid evidence to back up the claim. Later Thursday, images showed military helicopters flying past Pingtan island, one of Taiwan's closest points to mainland China.
The military posturing was a deliberate show of force after Pelosi left the island on Wednesday evening, bound for South Korea, one of the final stops on an Asia tour that ends in Japan this weekend.
On Thursday, Taiwan's Defense Ministry said its military was remaining in a "normal" but wary posture, and called the live-fire drills an "irrational act" that attempted to "change the status quo."
"We are closely monitoring enemy activities around the sea of Taiwan and that of outlying islands, and we will act appropriately," the ministry said in a statement.
Taiwan also accused China of "following North Korea's example of arbitrary test-fire of missiles in waters close to other countries" in a statement issued by its Ministry of Foreign Affairs on Thursday.
The exercises have caused disruption to flight and ship schedules, with some international flights canceled and vessels urged to use alternative routes for several ports around the island.
Exercises exerting pressure
Well in advance of Pelosi's near 24-hour visit to Taiwan, China had warned her presence was not welcome. The ruling Chinese Communist Party claims the self-governed island as its own territory, despite never having controlled it.
China issued a map showing six zones around Taiwan that would be the site of drills in coming days. But on Thursday, Taiwan's Maritime and Port Bureau said in a notice that China had added a seventh military exercise area for ships and aircraft to avoid "in the waters around eastern Taiwan."