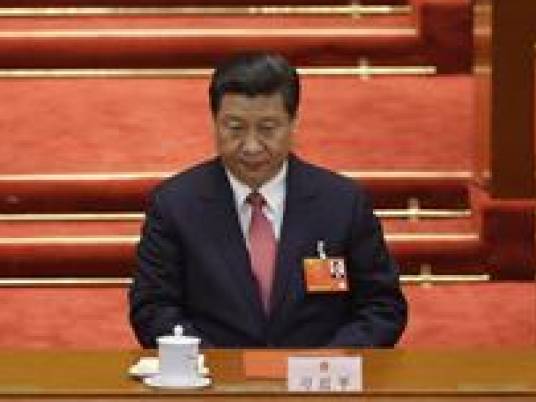 China's national defense ministry has announced that the country is designing and building its second aircraft carrier amid tensions in disputed waters of the South China Sea, state-run media reported Friday.
Yang Yujun, ministry spokesperson, told reporters in Beijing that the 50,000-ton carrier being built in the coastal city of Dalian, Liaoning province, would be entirely of independent Chinese design and powered conventionally rather than by nuclear energy.
"To safeguard maritime security, sovereignty and interests and rights, is the sacred mission of the Chinese armed forces," the China Daily quoted him as saying, while drawing attention to country's extensive coastline and vast waters.
The new vessel will carry domestically developed J-15 fighter jets, and will be equipped with a ski-jump for fixed-wing aircraft.
Yang underlined that the carrier is being designed based off lessons learned and experience gained from scientific tests as well as training with its first aircraft carrier, the Liaoning.
The Liaoning is a refitted Russian-made carrier delivered from Ukraine to China's People's Liberation Army (PLA) in Sept. 2012.
Yin Zhuo, expert consultation committee director of the PLA navy, said it was "only natural" that China would build a second vessel due to its role as a major maritime nation and membership in the United Nations Security Council.
"China also needs to make a greater contribution to the peace and stability of the world and the region," the Daily quoted him as saying. "Owning aircraft carriers is a choice made to contribute more to maintaining world peace."
He stressed the need to protect China's maritime interests amid their expansion.
China has been modernizing its naval capacity at a time when the U.S. and its allies are expressing alarm at its maritime expansion, which they suspect is aimed at extending its military reach.
The country's claims to the majority of the South China Sea are contested by Vietnam, Malaysia, Taiwan, Brunei and the Philippines, which has taken the quarrel in the region – which Manila calls the West Philippine Sea — to the International Tribunal for the Law of the Sea in The Hague.
China's efforts in the waters and disputed islands of the potentially oil and mineral-rich sea have been drawing criticism from countries with overlapping claims who consider the moves to be "aggressive".