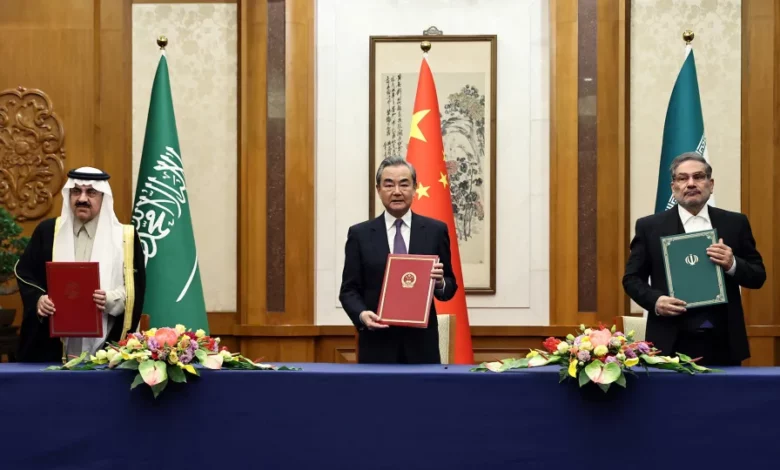 Abu Dhabi, UAE
CNN
 —  Saudi Arabia
this week moved closer
to joining a China-led Asian security and economic bloc, having been granted the status of a dialogue partner in the Shanghai Cooperation Organization (SCO) as it expands its global outreach.
A club of mostly ex-Soviet states, the SCO includes Russia and China, as well as other major economic players such as India and Pakistan. The kingdom could eventually be granted full membership.
China's growing role in the Middle East of late has alarmed Washington. This month alone, Beijing mediated a landmark agreement between archfoes Iran and Saudi Arabia that could help significantly ease Middle East tensions. Saudi Arabia also significantly strengthened its energy ties with China by announcing on Monday a $3.6 billion deal to buy 10% of China's Rongsheng Petrochemical, which would see it supply 480,000 barrels per day of crude oil to the company.
Analysts say that as the US' rivalry with China and Russia intensifies in an increasingly polarized world, Saudi Arabia and other Middle Eastern nations are choosing to diversify their global partnerships. But while states like Saudi Arabia may be getting closer to China, Beijing is far from becoming a US rival in the region, they say.
"The traditional monogamous relationship with the US is now over," said Ali Shihabi, a Saudi analyst and writer. "And we have gone into a more open relationship; strong with the US but equally strong with China, India, (the) UK, France and others."
That polarization is the reason different parties "bring different forms of influence to the table," he told CNN. "The smart thing for the kingdom is to put in place a portfolio of strategic relations that all contribute to its security and prosperity in different ways."
The kingdom's ambassador to the United States, Princess Reema bint Bandar Al Saud, told CNN's Becky Anderson in October that a review of the US-Saudi relationship was "a positive thing."
"This kingdom is not the kingdom it was five years ago, it's not the kingdom it was 10 years ago. So, every piece of analysis that existed is no longer relevant," she said, stressing nonetheless that the alliance with the US was wide-ranging and robust.
Speaking to CNN's Becky Anderson on Thursday, Vali Nasr, professor of Middle East studies and international affairs at the Johns Hopkins University School of Advanced International Studies (SAIS), said the US needs to rethink its Middle East policy "because it has been based on a very different conception of Saudi Arabia."
Analysts, however, say that the Middle East is unlikely to become an arena for US-Chinese rivalry, given Beijing's economy-oriented focus and its aversion to playing regional politics. The Saudi-China relationship is therefore unlikely to become a full-blown alliance.
Saudi Arabia is China's biggest supplier of crude, and China is the biggest destination of Saudi oil exports. The kingdom's economy is nonetheless tied to the US as its currency is pegged to the dollar and the sale of its oil is conducted in that currency. Saudi Arabia's defense infrastructure is also heavily reliant on American equipment.
Jonathan Fulton, senior non-resident fellow at the Atlantic Council, says that China has a strict non-alliance policy and is unlikely to want to get bogged down in Middle Eastern conflicts.
"An ally is typically someone you're aligned with against a third country or a bloc of third countries… and China doesn't want to do that," he told CNN. "They don't want to get caught up in other countries' issues, especially in the Middle East."
Unlike Western states, China also offers Saudi Arabia its policy of non-interference in each other's domestic affairs, an issue that was clearly spelled out when Chinese President Xi Jinping made a landmark visit to Riyadh last year
Fulton said that the two are unlikely to interfere in each other's affairs mainly because "neither side matters that much to the other," and that each state's core interests are beyond the scope of the other's priorities.
That may work well for Saudi Arabia, which has been on the receiving end of a barrage of criticism from the Biden administration and Congress for its human rights record. For China, it means that Saudi Arabia will continue its silence on matters such as its treatment of Uyghurs and other Muslim minorities in northwestern region of Xinjiang, which the US in 2021 labelled a "genocide."
After the surprise Saudi-Iran agreement was announced this month, the Biden administration appeared to downplay China's role. White House Spokesman John Kirby said internal and external pressure, including effective Saudi deterrence against attacks from Iran or its proxies, ultimately brought Iran to the table, Reuters reported. But he welcomed it "regardless of what the impetus was, or who sat down at the table."
Fulton said China's mediation isn't necessarily a change in its Middle East policy. It was a "regional approach to a regional problem," he said, which regional actors saw the US unable to resolve.