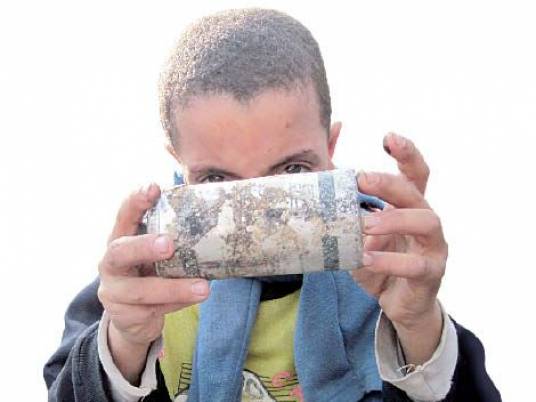 As the firing of a tear gas canister signaled the renewal of clashes on Qasr al-Nil Bridge, two 15-year-olds stood close to the front line in their school uniforms and backpacks. They didn't budge, even as passers-by ran away from the rising gas.
Standing their ground, they explained that they come to the site of the clashes every day after school. They said they do so for the sake of the revolution — and if they die, they will be martyrs.
Since January, protesters and police have engaged in intermittent battles just off this iconic bridge, at the start of the typically tranquil Garden City Nile Corniche.
The sporadic clashes have turned deadly some nights. Still, the site has become something of an after-school hangout for many children and young teenagers, who were in a common lesson-skipping drive and rigid classrooms' escapade. In a way, the clashes became a site for an anti-system of some sort.
Along with some street children, they spend most of the day engaging in confrontations with security forces.
This particular demographic is not entirely new to the scene. The street children and school-age kids — some as young as 7 — who are involved in the Nile Corniche clashes have joined older protesters and activists in similar battles with security forces in the two years since the 2011 uprising.
Now, in the absence of older protesters, these children dominate the scene, facing dangers unthinkable for their young age.
Despite attempts to use the same big words they've heard older revolutionaries speak, their answers reflect both innocence and utter oblivion to the severity of the life-threatening risks they take just by being in the area.
Their mixed motivations for returning daily to the front line ranges from feeling they have a unique and important role to play in protecting the revolution, and a less glorious, childish urge to be part of the exciting grown-up game of clashes.
Every day, Karim Mohamed, a 15-year-old student, tells his parents that he's going to an Internet cafe. Instead, he heads to the Nile Corniche to engage in the clashes. Asked why he returns, he answered with a story.
Karim used to play soccer downtown with his friends. One day, the ball was kicked far and one of them, Adel, went to get it. He was shot dead.
"We just came here to play. We had no interest in protests and they shot him. How can anyone accept that?" he asked.
And, much like the older generation still demanding retribution and justice, Karim asked, "Did we get Adel's rights? This is why I'm still here. When we get [justice for] Adel and all the martyrs that died after him, I will go home."
He speaks with fiery enthusiasm, pride and a strong belief in the role that he and his peers can play in the revolution. He argues aggressively against anyone who undermines their significance due to their young age.
As rocks are hurled from both sides, Karim overhears a passer-by calling those fighting on Qasr al-Nil "useless kids."
Livid, he hits back, "Don't say useless. You are the useless one. You're standing here while those you call kids go in and fight."
Another passer-by waves his hands dismissively, which deeply offends Karim.
"Don't do that. You don't understand anything. You're just watching. Go watch on television — some of us here are trying to do something for the sake of God," he yells.
Many children say the reason they've taken up the front-line fight is because grown-ups are too afraid now. They say this with no bitterness or sense of abandonment. They are convinced that, as children, they are more physically capable of enduring the strains of the clashes.
"Can you put up with the tear gas?" Karim asks this Egypt Independent reporter. "When I run and pick up the tear gas canister and throw it in the Nile, am I not helping you?"
Whether they are there for a higher purpose or to play a game, the choice of these kids to immerse themselves in such dangerous activities seems to be a direct result of the scenes they've had to witness prematurely.
In the middle of one rock-throwing session between the two sides, 7-year-old Nada Tarek, who stands barely above knee level of most of the young crowd, runs around in a colorful galabeya, with gray pants and sneakers and disheveled hair. She collects rocks and gives them to the slightly older boys to throw at security forces.
The daughter of a tea vendor in Tahrir Square, Nada says she is fighting because police arrested her brother. She wanted to fight for people's rights, and proceeded to insult the police with curse words that are often heard in clashes, but are also far beyond her years.
Most of the children recount stories of people they've seen being run over by trucks or shot dead during intense clashes, or of children being arrested and beaten mercilessly by police.
Many say this is what made them join the fight. Others say they can't leave until those who were arrested are released.
Abdel Rahman, a 14-year-old student, saw a man killed when the clashes turned fatal Saturday. Witnessing this hardened his heart, he says.
"One guy was shot next to me and I found blood gushing out of his chest," Abdel Rahman recalls. "I carried him to the ambulance, his blood dripping on my shirt."
Mohamed Ali, 19, is a member of the Ultras Ahlawy who joined the clashes Saturday after the majority of policemen accused in the Port Said football violence case were acquitted. He says the younger generation was enticed to become active in clashes when they were made victims.
"Those who were thrown off from the walls of the stadium, weren't they young too?" he asks, referring to the 72 football fans who died in the violence — the youngest of whom was 16-year-old Anas Mohey.
Despite their young age and the horrors they've witnessed, there are no signs of fear on their faces. They firmly believe they can outrun any danger.
But not all of the children involved in the fight have this strong sense of purpose.
Some are upfront about the fact that they come with their friends to hang out. Others entertain themselves in between clashes by throwing rocks aimlessly at surrounding hotels and cars. The Semiramis Intercontinential Hotel has borne the brunt of this randomness.
Another group cares less about which side they fight on than whether they get to take part in the action.
On Sunday, 10-year-old Fares was seen throwing rocks at police and then sitting on the sidewalk among protesters to rest. He lives with his father and brother in Tahrir Square, and says he hasn't slept in two days because he wants to be with the people.
The next day, Fares stood on the other side of the front line, milling around with police officers, in a common scene whereby the cops stand shielded by a line of kids aiding them with stone throwing.
With a friendly demeanor toward Fares, one officer said these children are with the security forces every day.
There are suspicions that the children are being used by different parties. During the clashes, there are always some children fighting on the side of the police. Occasionally, there are older people around attempting to stop them from speaking to the media.
As fighting ensues, the scene is often surreal — more akin to a school play, where children take on roles occupied by grown-ups in real life.
On an average day along the Nile Corniche, a young teenager walks around proudly wearing a Central Security Forces cap he's snatched during the clashes. Others walk around with black masks covering their faces.
As for traffic along the main road, it's the children who decide when to let it flow and when to block it off. The flow of cars allows police to sneak up on them and arrest some, they say.
Manning the middle of the street, some attempt to let cars drive through peacefully, while others decide to throw rocks at passing motorists because they sped by too fast, or resentfully, because they think these drivers should also be taking part in the protest. But the sense of acquiring power by derailing those attempting to drive to their offices or run errands, often rich urban dwellers and diplomats, judging from their cars, is visibly stimulating for the children.
On Monday, Egypt Independent met 10-year-old Omar, who said he came to the clashes to help the revolution continue. A few minutes into the conversation, police reappear, and Omar rushes to collect a rock with one hand, keeping the other busy with his study guide book titled, ironically, "Silah al-Telmiz."
The book, known to most Egyptians who went through the local educational system, roughly translates as "The Pupil's Weapon."
This piece was originally published in Egypt Independent's weekly print edition.