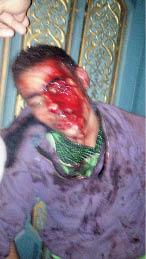 A thirteen-year-old child died Thursday evening while being circumcised at a private clinic in a village of the Nile Delta governorate of Daqahliya. The child's family filed a complaint at the police station, accusing the doctor who performed the operation of having caused her death.
The victim's father, Mohamed Ibrahim, a farmer, told Al-Masry Al-Youm: "We left our daughter with the doctor and the nurse. 15 minutes later, the nurse took my daughter out of the operation room to a nearby room, along with three other girls whom the doctor was circumcising."
Ibrahim added: "I waited half an hour, hoping that my daughter would wake up, but, unfortunately, unlike the rest of the girls, she did not."
The doctor brought her back to the operation room, and then we were surprised when an ambulance transferred her out of the clinic. When we asked the doctor what was going on, he told us that she was weak and that the clinic did not have the necessary [medical] equipment to treat her. When we reached Aga Hospital, they told us that the girl was dead."
"If I had known the operation was going to kill her, I would never have [allowed] her to have it. The same doctor conducted a similar operation on her elder sister two years ago, and villagers visit this doctor because he has a remedy for everything at low prices," Ibrahim continued in tears.
"The doctor does everything and the nurse helps him. Doctors at the Aga Hospital told me that she died of an anesthesia overdose," the victim's mother, Hasanat Naeem Fawzy, said.
"I want nothing but to hold the doctor accountable and to have justice for my daughter," Fawzy added in tears.
The victim's uncle, Mohamed, said that the doctor had offered the family 20,000LE in exchange for not filing a complaint against him.
Tareq Hamouda, Head of the Aga prosecution in Daqahliya, summoned the doctor for interrogation and ordered that an autopsy be conducted on the child in order to find the cause of death.
Abdel Salam, the family's lawyer, said that although most forensic doctors were on vacation, the prosecutor was able to call on one to conduct the autopsy. The health inspector report, he added, confirmed that the cause of death was a sharp drop in blood pressure resulting from shock trauma.
Abdel Wahab Suleiman, Under Secretary of the Ministry of Health in Daqahlia, said that the Health Directorate had not yet been notified of the incident. He underlined that FGM is strictly prohibited and that the doctor had violated the law.
Edited translation from Al-Masry Al-Youm