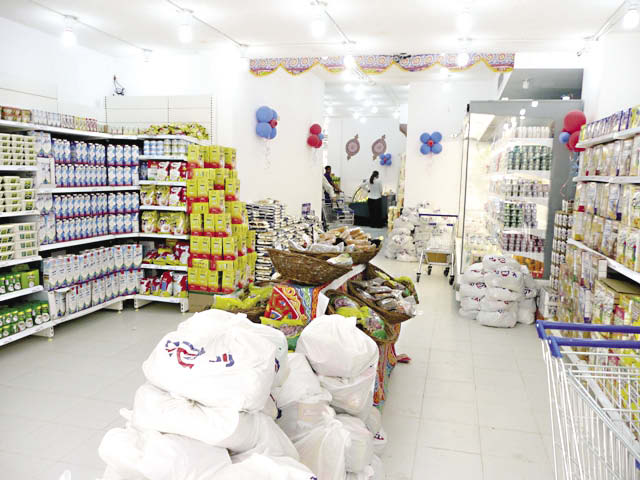 Not much in the new small-to-medium-sized supermarket Zad hints at its religious or political affiliation. But the store, sitting unassumingly in Nasr City, is one of 15 branches recently opened by the Shaters, a wealthy and influential family of Muslim Brotherhood members.
Last week, Saad al-Shater, son of Muslim Brotherhood leader Khairat al-Shater, told Al-Masry Al-Youm that he had opened Zad Hard Discount stores across Cairo's middle class neighborhoods and plans to open more locations nationwide.
Store managers at two branches told Egypt Independent that Khairat and his brother Bahaa were on the board of directors, and present at the store launch on 15 July.
The Brotherhood's businessmen are self-proclaimed free-market capitalists calling for a more empowered private sector to play a role in economic development as a means for achieving social justice. But whether the new supermarket subscribes to this philosophy is questionable, with many critiquing the Brotherhood economy for not being substantively different from the neoliberal economy of the bygone regime.
During his bid for the presidency in April, Khairat al-Shater told Reuters that "social justice requires projects … the state doesn't have a lot of resources at least for the next two years. So, the private sector needs to be incentivized in a big way so that it can invest in projects."
Brotherhood businessmen say they are committed to a private sector void of corruption and one that benefits a wide base of society, not a small tier of it, as prominent Brotherhood member and businessman Hassan Malek told Egypt Independent in an interview in April.
They also say they want to create a more productive and less consumerist economy.
Gehad El Haddad, a key member of the Brotherhood and promoter of the Renaissance Project, the group's platform for state building, also told Egypt Independent that the project began as an attempt to understand the problem of the Islamic world.
"We became consumers, not producers," he said.
A Brotherhood economy
It remains unclear what Shater owns now, following the confiscation by the government of many of his businesses in the 2006–2008 military trials, when he stood trial alongside other Brotherhood members.
Shater was only released in March last year and most likely had to wait, like his former business partner Malek, for a few months after that before his remaining assets were unfrozen.
Shater, nevertheless, continues to be viewed as a wealthy and successful businessman.
The businesses he owned or co-owned, as seen by Egypt Independent in the military trials' court documents obtained, include Malek Trading for ready-made clothes, the Egyptian International Trading and Trade Agencies Company (Rawaj), and the computing services company Salsabeel, among others.
Two Brotherhood businessmen have said they don't use loans to finance their capital investments, suggesting that their businesses provide them and the organization, which was banned under the former regime, with enough wealth for self-sufficiency.
Saad al-Shater told Al-Masry Al-Youm that no loans were taken out to finance Zad.
According to Ashraf El-Sherif, a political scientist who studies the Brotherhood extensively, most of the group's investments rely on Gulf petrodollars, whether Gulf investments in Egypt or Egyptian money in the Gulf.
"Historically, in the 1950s and 1960s under [former President Gamal Abdel] Nasser's repression, many Brotherhood members left Egypt and went to the Gulf. They worked there and accumulated a lot of investments and funds. When the open door policy came to Egypt, they came back with this Gulf money," he said. Shater himself worked in the Gulf in the 1970s and 1980s.
Catering to the middle class
The supermarket advertises itself as offering the cheapest products on the market "to meet the basic needs of Egyptian households," as Saad al-Shater put it.
A basic comparison conducted by Egypt Independent can confirm that it is in fact cheaper than most other supermarket chains for staple goods.
A 5-kilogram bag of rice is sold at Zad for LE24.45, compared to LE29.49 at Spinneys, LE29.95 at Carrefour, and LE30.65 at Kheir Zaman.
One liter of milk is sold by Zad at LE6.75, compared to LE6.83 at Spinneys and LE7.25 at Kheir Zaman.
The pattern was similar across a number of other products compared. Zad was only beaten by others in their Ramadan season promotion offers.
Ramadan bags that contain essential items like rice, pasta, sugar, tea, fava beans, tomato sauce and oil are being offered by Carrefour at LE29.95, while Zad has two bag options: silver for LE33.95 and gold for LE42.95. Kheir Zaman has one bag price at LE35.
Store manager Mohamed Abdel Hamid, 32, had a response to this.
"They make discounts for certain periods, but our prices are fixed all months and all year. So, our prices are the cheapest in the market, and people benefit more," he said.
The question is: Whose basic needs is Zad catering to?
Its clientele at the Nasr City branch were mainly those trickling out of the Public Health Insurance Authority across the road. Those Egypt Independent spoke to said they were shopping at Zad for the first time because they had heard good things about the store and its prices from colleagues and family members.
Like many supermarket chains, Zad doesn't intend to cater to the poor. Two cleaners, who wished to remain anonymous and live in the working-class Cairo neighborhood of Omraneya, said Zad would be too expensive for them.
They get their rice, sugar and oil at government-subsidized rates. A kilo of poor-quality rice is sold at LE1.50, sugar is LE1.25 and a liter of oil is LE3. For their other staple needs, they go to small, independent shops that sell dried goods.
Sherif thinks that Zad strategically targets the middle class.
"It's a populist project that feeds the lower-middle class appetite for a patriarchal economic system that provides them with strategic and cheap goods," he said.
"It is not trying to challenge the relations of production and distribution," he said. "The lower-middle class has this mentality of wanting the state to give them more than what they get, and a discount store fits into this, and into Ramadan when there is a high demand on consumer goods, so it pays dividends."
Zad's steadily cheap goods are hence expected to be welcome to middle-class consumers, who on average spend 40 percent of their income on food, according to recent CAPMAS statistics.
Building into an economy?
Zad's predominantly male staff members were happy at the employment opportunity they were being given. They said salaries were higher than most at LE1,200 a month, which is LE500 above minimum wage, and that after three months they are entitled to health insurance for themselves and their families. At other supermarkets they worked for, health insurance was only offered to the worker.
For Ahmed Nabil, 26, who is married with a child, working at Zad is a chance of employment where none other exists.
"I used to work as an electrician for a French multinational company, but six months ago they let me go, because of slow business after the revolution. So I'm happy to be working," he said.
Asked whether the salary was enough for his needs, he added: "From the perspective that I'm married it is not enough, but where else am I going to earn money?"
Experts say the problem with the type of work being created is that it maintains the consumer-based economy the Brotherhood claims it wants to change.
"All you're doing is taking a poor workforce and training them to be sellers. If the shop closes down tomorrow, they can only stack shelves and stand at the cashier. These aren't the kind of skills that improve the work environment to take Egypt into the next phase, to become an economically advanced country," said Zeinab Abul-Magd, an assistant professor in history and political economy at Oberlin College.
"Train them to produce clothes, shoes, chairs, then I would appreciate what you're doing. But just training them to be sellers doesn't even involve training. Anybody can do that," she said.
For Sherif, what's needed now are more labor-intensive production facilities.
"But these require more investment. Retail stores are easy. They don't improve labor skills, productivity, or add to the national income," he said.
This piece was originally published in Egypt Independent's weekly print edition.