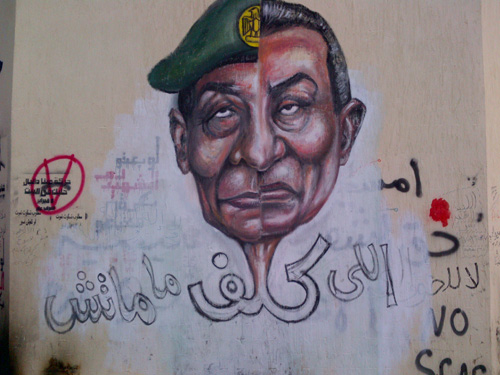 Lawyer Assem Qandil on Wednesday became the latest to file charges against former military generals for the killing of protesters in the Maspero, Mohammed Mahmoud Street, Cabinet and Port Said clashes.
In about two weeks, a report should be released by President Mohamed Morsy's fact-finding commission tasked with determining who is responsibile for the abuses by military and police authorities since the revolution.
But lawyers and campaigners believe that current legal structures will not allow for the successful prosecution of the guilty.
The former military leaders who assumed power after the ouster of former President Hosni Mubarak were accused of ordering the torture and killing of hundreds of the revolutionaries during repeated crackdowns on peaceful protesters.
However, fears are mounting that most of the complaints will be referred to the military prosecution, in accordance with the military judiciary law stipulating that military courts are the only judicial authorities who can try military officials. The military prosecution would neither be credible nor transparent, say critics.
"All the complaints that rights organizations filed against military leaders were referred to the military prosecution, an institution whose independence is highly questionable," Director of Hisham Mubarak Law Center (HMLC) Ahmed Ragheb said, adding that most of these charges have not been seriously investigated.
Investigations by the military prosecution in the Maspero case, in which the military police allegedly killed 23 Coptic protesters, sent three soldiers to trial on charges of mistakenly running over 13 protesters using APCs. Rights groups say that no military police officers were convicted.
A military court also acquitted a doctor allegedly responsible for the forced "virginity tests" on female protesters in a case filed by activist Samira Ibrahim. The doctor was accused of public indecency, while Ibrahim's lawyers said he should be tried for sexual assault, if not rape.
Meanwhile, Morsy issued a presidential decree days after assuming power to form a fact finding committee that would investigate responsibility for abuses by the military during the interim period. The committee includes judges and representatives from the police, the intelligence and the army, with monitors including rights activists and the families of martyrs and the injured.
The committee's spokesperson, Chancellor Amr Marwan, declined to comment on the committee's latest findings. The committee was given only two months to present a detailed report including its findings and recommendations.
Resorting to "universal jurisdiction"
As complaints pile up on the desk of the military prosecution, some look to international law for a solution.
Egyptian citizen Iman Elgebaly, who lives in Norway and was injured during Mohammed Mahmoud clashes, filed a complaint months ago in front of the International Criminal Court (ICC) against Tantawi, Annan and other military generals for their alleged involvement in human rights violations against protesters.
Elgebaly received an official letter from the ICC confirming that her complaint was received by the court and promised an investigation into the matter. Elgebaly told Egypt Independent that the case was numbered and filed, and she is still awaiting her case's turn to be investigated by the court's judges.
Such a case will face many legal constraints. Egypt has not signed the Rome Statute, the treaty that established the ICC. Egyptian military leaders will not be tried in front of ICC unless the court's judges decide to make an exception for the case, which has only happened in the case of war crimes, such as those committed in Libya by Qadhafi's regime.
Director of the Egyptian Initiative for Personal Rights Hossam Bahgat referred to the possibility of making use of "universal jurisdiction" if military leaders aren't tried domestically, especially in a case like Maspero, where military police officers are accused of committing what could be described as a crime against humanity.
According to ICC's Rome Statute, crimes against humanity "are crimes that are committed as part of a widespread or systematic attack directed against any civilian population, with knowledge of the attack."
These crimes include murder, enslavement, extermination, torture, rape and other crimes. Observers believe that many violations committed by the military during the last 18 months should be considered crimes against humanity.
But rights lawyer Nasser Amin explained to Egypt Independent that military leaders can be tried in front of courts other than the ICC.
"They can be tried in front of domestic courts in most of the European countries that are part of Geneva Treaty that prohibits any violence against civilians," Amin said, adding that these courts can try people who did not commit crimes inside Europe.
Rulings in these courts will be binding as long as the defendants enter any country which is party to the Geneva treaty, Amin argues.
Legal reforms necessary
But Bahgat believes that efforts should be directed to trying those generals domestically, especially after the formation of Morsy's fact-finding committee.
Ragheb, who is also a member of "Hakemohom" (Try them) campaign, said that the HMLC presented a draft law for "revolutionary justice" through which ousted military leaders could be tried domestically without having to seek international jurisdiction.
The draft law aims at establishing an authority obliged with receiving and investigating all complaints of corruption or rights violations since Mubarak assumed power until President Morsy was elected.
The draft also includes legal amendments to the military judicial law to allow military officials involved in crimes against civilians to be tried in front of civilian courts.
The question here is to what extent Morsy would be responsive to such legal reforms, especially after he assumed all legislative powers from the military after cancelling their addendum to the constitutional declaration.
Morsy repeatedly confirmed in several media appearances and in his second speech to the nation in Tahrir Square that he will make every effort to seek justice for those who were killed, injured or who were subject to any kind of violation.
If Morsy does not amend these legal reforms, many activists fear that he would grant the generals a safe exit, especially after having appointed Tantawi and Annan as advisors, and former military police chief Hamdy Badeen as a military attaché in the Egyptian Embassy in China.
Amin shares the same worries. "The decision to appoint Badeen in such a high-profile diplomatic post is an attempt to allow him to escape," he said.
But other observers believe that these concerns are unfounded because these appointments do not grant immunity from legal punishment.
"Diplomatic immunity is given to diplomats while serving their diplomatic posts, but we aim to try Badeen [for instance] in his capacity as a former chief of military police prior his appointment in our Embassy in China," Bahgat said.
In Latin America, military leaders who were involved in human rights abuses against thousands of civilians, such as during the Dirty War in late 1970s and early 1980s in Argentina, enjoyed constitutional immunity. Activists exerted pressure to strip them off immunity and try them decades later.