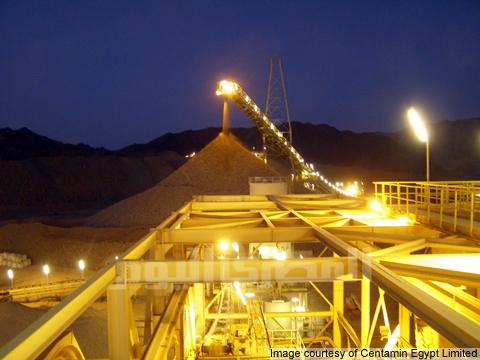 Centamin said it hoped to resolve a court case hanging over its Sukari gold mine in Egypt during 2013, offering hope to shareholders worried about the future of the gold miner's only producing operation.
An Egyptian administrative court ruled at the end of October that Centamin's right to operate Sukari was invalid, slicing one third off the company's share price in a day. Centamin said earlier this week it was confident of winning an appeal against the decision, which lawyers said might take years to unravel.
The company said its appeal, which it will lodge next week, will be based on the submission of an exploitation lease which has yet to be seen by the court.
"Whether that's (the appeal) fast-tracked or not we'll know more over the course of the next week, and that will determine whether it's a month or three-month process," Centamin chairman Josef El-Raghy told Reuters in an interview on Thursday.
He said it was difficult to give a definitive time frame for settling the case, but when asked if it would be resolved during 2013, Raghy said: "I would hope so."
The case against Centamin was brought by Egyptian lawyer Hamdy Fakharany, who argued that the state was not receiving sufficient returns and should stop operations at Sukari. Fakharany, an ex-MP and a leader of the liberal Democratic Front Party, has instigated other cases challenging the sale of state land to real estate companies during the rule of Hosni Mubarak, ousted in a popular uprising last year.
"There is zero benefit from closing this project," Raghy said.
The cases have added to investor nerves at a time when the government is trying to revive confidence in the economy and lure back foreign investment, which has all but evaporated.
Shares in Centamin, among a small pool of foreign firms still pumping cash into the Egyptian economy, have recovered some of their losses to trade at around 73 pence, up 15 percent from where they closed on the day of the court ruling.
Raghy said he expected Sukari to continue operating normally during ongoing legal procedures and that the mine was on track to meet output guidance of 250,000 ounces of gold for 2012. Centamin says its concession agreement was not annulled.
Centamin, which employs 1,200 staff at Sukari, has yet to directly contribute to Egyptian coffers via its profit-sharing agreement.
But next year the state will net between $40 million to $50 million after the company has recovered more of its costs.
Egypt's return from the mine is due to rise to between $150 million to $200 million per year from 2015. Centamin said terms offered in its 1994 agreement with Egypt made exploring and developing a gold mine attractive, but said terms offered in 2006 and 2009 bid rounds were not sufficient.
"We did not participate in those bid rounds because the terms were too onerous for investment," Raghy said.
Centamin's Sukari revived Egypt's bullion mining history dating back to ancient times. Centamin describes Egypt's eastern desert as having great potential for more mines, but which is under-explored and under-developed. Most of the companies that picked up licences in the 2006 and 2009 bid rounds have since relinquished them, said El-Raghy.
"The gold is there. What isn't there is the investment climate," Centamin's head of business development Andy Davidson said.