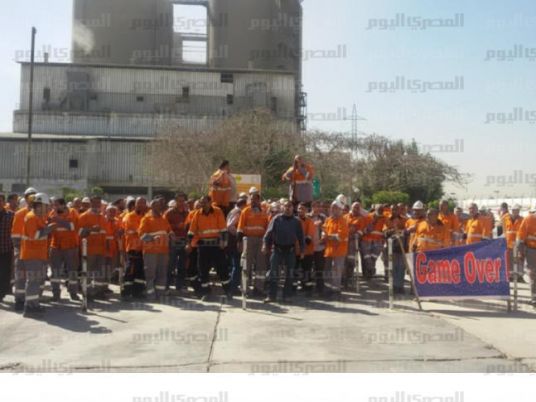 Workers at Egypt's largest cement company protested for a 12th consecutive day over reductions in their annual share of revenues from 25 months-worth to only six.
Workers at Tourah Portland Cement demanded Prime Minister Ibrahim Mehleb to immediately intervene to settle their dispute with the Italian owner whom they accused of attempting to subject the company to losses and stymie its operations after disagreements over the revenue distribution scheme.
A source within the protesting workers said a meeting is scheduled for Tuesday gathering workers at other sister subsidiaries of Suez Cement Company to discuss developments in the crisis after the administration cut off electricity on the workers on Sunday, as he put it, adding that the workers had complained about the administrators at police stations.
The source said the electricity cut will cause productions to halt and cement market prices to surge.
The company had claimed it did not make any profits during 2014, hence the failure to disburse the workers' shares. It added that it, however, had increased workers salaries over the past five years to LE9,000 monthly on average.
Edited translation from Al-Masry Al-Youm