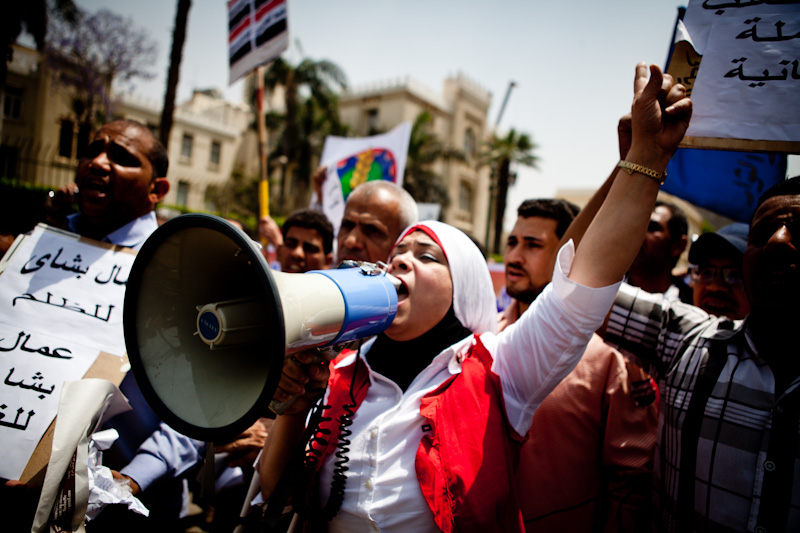 The use of police dogs in attacks against labor actions have been documented by activists and workers, who say that this is a part of a host of heavy handed crackdown and punitive actions used against them recently.
Among the most recent crackdowns was the storming of the Portland-Titan Cement Company in Alexandria by security forces on 17 February.
Central Security Forces armed with clubs, electric prods and attack dogs –– an unprecedented incident –– conducted an early morning raid in which tens of workers were injured, five of these workers have been reported to have sustained serious injuries, including broken bones, and cuts.
Security forces arrested 87 workers who were striking and occupying their company's administrative building. Eighteen of these workers remain in police custody pending investigations, while the other workers have since been released.
"We've never heard of a crackdown against workers involving police dogs prior to this incident," said Talal Shokr of the Egyptian Democratic Labor Congress.
"This is a clear escalation in police brutality against the workers and their right to strike," Shokr added. "It is the most brutal attack against workers since the crackdown against the strike at the Helwan Iron and Steel Company in 1989."
In August 1989 Mubarak's police forces raided this massive state-owned steel mill in southern Cairo, where thousands of workers were staging a sit-in protest. Police shot dead one worker, injured dozens, and arrested nearly 600, while other workers were tortured in detention.
Speaking in Giza on Wednesday evening, at a labor conference titled "Workers face brutal repression, imprisonment and joblessness," Mohamed Hamed, president of the Independent Union Committee for Portland-Titan Company Workers, expressed his dismay at "the current regime's failure to respect workers' rights."
Hamed claimed, "I was imprisoned, tortured and electrocuted by [former President Hosni] Mubarak's security forces on charges of instigating a strike at our company in 2007."
Hamed added, "Our demands back then are the same as they are now: full-time contracts for our full-time work, and the payment of overdue profit-sharing. As during the days of Mubarak, our demands still remain unmet under the administration of President [Mohamed] Morsy."
Hamed expressed his disappointment as he asked, "How is it that the president, who is referred to as a believing Muslim, condones the use of police dogs in attacking workers while they pray in a mosque?"
Hamed explained that workers were praying their dawn prayers in a hall within the company's administrative building –– which had been converted into a makeshift prayer room –– when police stormed their sit-in occupation.
"Police removed the muzzles from their dogs' and unleashed them upon us. The police attacked the workers while they were praying. They violated the sanctity of our mosque with their boots and their dogs," said Hamed.
"One worker was attacked and bitten by a police dog, others jumped out of windows in attempt to evade the police's batons and dogs. Yet another worker was thrown out of a window from the third floor at the hands of the police."
The use of attack dogs by security forces has precendents. Last November, military police forces had come under criticism for unleashing an attack dog against protesters in the Nile Delta city of Kafr al-Sheikh; the incident informally became known as the "Battle of the Dog."
However, General Abdel Mawgoud Lotfy, Alexandria's top security chief, denied the use of police dogs or any other form of violence in dealing with the workers. According to media reports, the general confirmed that 87 workers were initially arrested –– justifying the action on the basis that they were holding members of the company's administrative board as hostages –– including Egyptian and foreign
nationals.
Hamed vehemently refuted these claims, and challenged authorities to release the medical reports of his detained co-workers. "My imprisoned colleagues are not allowed any visitors, so we can't get our doctors inside to document their cases. Two of those assaulted and locked-up are my deputies in the trade union." Hamed claimed that authorities are providing the detainees with "inadequate medical attention in detention."
Hamed also denied any case of "boss-napping," saying, "There are 156 workers who were present when the police stormed. Each one can bear witness to the fact that we didn't take any hostages from the administration. We talked and dealt with the administration in a very civilized manner. Everybody was free to leave. This is clear in the photos and videos we took using our phones."
Media reports prior to, and since, the police stormed the company on 17 February mention that an Indian, Greek and Egyptian administrators were being held hostage for several days. "One day prior to the attack, I found that the company administration had filed charges against us at the police station claiming that we were holding them hostage. These are bogus and trumped-up charges, yet the police acted on them anyway," said Hamed.
An Alexandria court is scheduled to review the case of the 18 workers on 3 March.
A labor rights rally held on Thursday in Alexandria dubbed "Scream of the Workers" addressed the case of the Portland-Titan Company, as well as two independent union organizers from Alexandria's Water Utilities Company who were reportedly assaulted by unknown assailants and the case of workers from Faragello Company who were rendered jobless with the
closure of factories, 16 of whom were later arrested. The conference also raised the case of workers from the Sumed Company whose sit-in protest has entered its third week.
According to Fatma Ramadan, Egyptian Federation of Independent Trade Unions board member, "Morsy and his regime have repeatedly proven their willingness to use police violence, and to draft hostile laws, which strip Egypt's workers of their most basic rights. This regime has even resorted to the use of police dogs against workers –– a brutal act, unheard of even during Mubarak's rule."
Ramadan added that "over the past few days we've witnessed physical assaults against workers and systematic violations of labor rights from Alexandria to Luxor, and beyond."
Ramadan concluded, "the new regime has moved to demonize strikes and industrial actions, describing them as selfish actions which only serve to harm the national economy and to obstruct 'the wheel/gears of production.'"
On Tuesday, Finance Minister Morsy Hegazy claimed that Egypt's economy is ailing, and that it incurs losses amounting to LE100 million each day as a result of ongoing unrest, including protests, strikes and other disruptions.