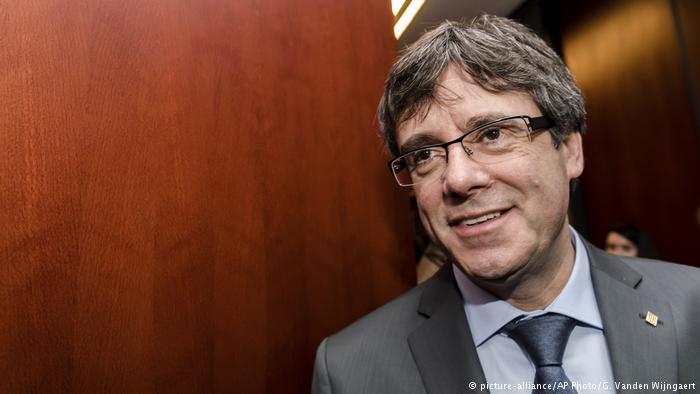 Catalonia's Carles Puigdemont said he was "sacrificed by our own" in an exchange with fellow fugitive lawmaker and former Catalan minister Toni Comin that was published on Wednesday.
Puigdemont, who heads the movement for Catalonia's independence from Spain, sent Comin a series of phone messages on a highly secure Signal messaging service. Their content was captured by cameras while Comin was browsing the messages at a political event in Belgium on Tuesday evening. They were first broadcast by the Spanish TV channel Telecinco.
In the messages, Puigdemont said, "We are seeing the last days of republican Catalonia."
Puigdemont fears that 'history will laugh at us'
Earlier on Tuesday, Puigdemont suffered a heavy blow when the speaker of the Catalan parliament, Roger Torrent, indefinitely postponed a key vote. The move effectively halted the self-exiled leader from forming a government. The decision exposed a deep divide in the pro-independence camp and seemed to mark a win for Madrid.
"I suppose it's clear to you that this is over. We were sacrificed by our own. Or at least I was," Puigdemont wrote to Comin, who also fled to Belgium fearing arrest in Spain.
The plan hatched by the central government "wins," Puigdemont said in another message, while also hinting at an apparent deal to release the detained Catalan leaders. "I only hope it's true that thanks to this they'll all be able to get out of prison. Because if they don't, history will laugh at us."
Images on the phone screen did not show any replies from Comin.
'No other possible candidate'
The messages were recorded at an event set up by a Flemish nationalist party, where Puigdemont himself had been scheduled to speak. His former health minister Comin took to the floor after Puigdemont's last-minute cancelation.
The Catalan ex-president apparently sent out the private comments very close to the time when he posted a defiant public video. In it, Puigdemont said that he was the only viable option to lead Catalonia.
"There is no other possible candidate, no other combination arithmetically possible," he said.
Doubts about Comin's motives
After the phone messages were made public, Puigdemont took to Twitter to reaffirm his commitment to the political struggle but did not deny having written the messages.
"I am human and I also have moments of doubt," he wrote. "I am also the president and I will not cower or back away out of respect for the gratitude I feel towards — and the commitment I have — to the citizens and the nation. We continue!"
Also on Twitter, Comin warned that he might take legal action over the publication of the messages.
Some observers, however, doubted Comin was unaware that messages might be seen. According to Pablo Suanzes, Brussels correspondent for the major Spanish newspaper El Mundo, Comin repeatedly left his phone "fully exposed" with messages on screen, even after some of his companions warned him to shield it.