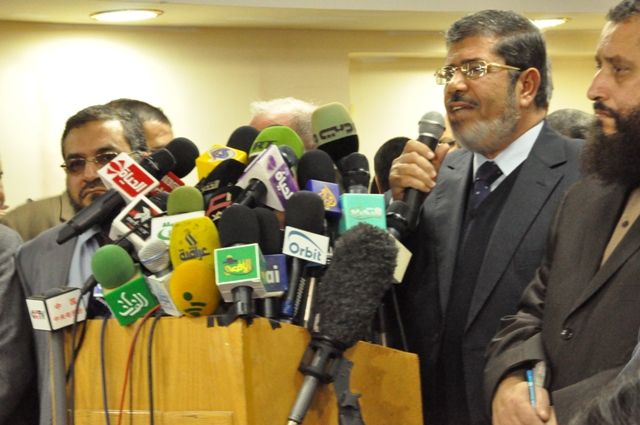 The State Council Administrative Court adjourned Tuesday a lawsuit demanding the dissolution of the Muslim Brotherhood to September based on a request from the group's attorney for more time to review the case.
Arguments between the opposing lawyers escalated until the judge moved the session to his chambers then ultimately adjourned it.
The session started amid intense media and security presence. The group's lawyer, Abdel Moneim Abdel Maqsoud, former Freedom and Justice Party MP Sobhy Saleh, and the FJP's attorney attended the hearing to defend the Brotherhood.
During the hearing, one lawyer ordered, "Take your hands off Islam," then chaos broke out and court security intervened to control the situation.
Lawyer Shehata Mohamed Shehata filed a lawsuit demanding that the Brotherhood, which is not legally registered by the state, be disbanded. The defendants include Prime Minister Kamal al-Ganzouri, Finance Minister Momtaz al-Saeed, Social Solidarity and Domestic Trade Minister Gouda Abdel Khaleq, Brotherhood Supreme Guide Mohamed Badie and Brotherhood presidential candidate Mohamed Morsy.
Shehata argued that all had failed to disband the Brotherhood and prevent it from establishing a political party. He said the group is still engaged in political and social activism despite being banned for more than 60 years.