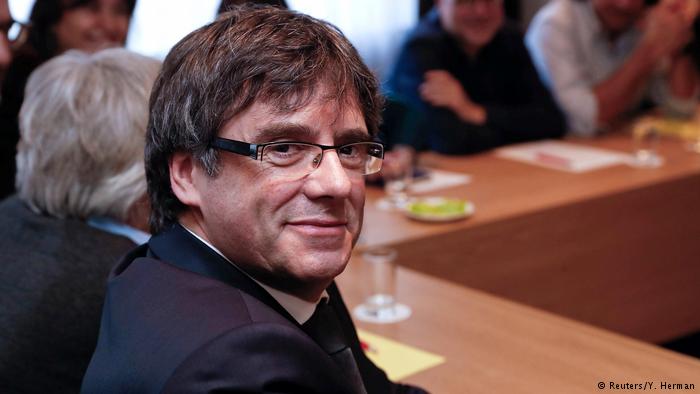 Carles Puigdemont has abandoned his attempt to be reappointed Catalonia's regional president and tapped an imprisoned politician to succeed him. The regional parliament spent the day supporting Puigdemont.
Catalan separatist leader Carles Puigdemont is giving up his candidacy for Catalonia's regional presidency, he said in a video posted to social media on Thursday.
"I will not put myself forward as a candidate to be appointed regional president," Puigdemont said.
"We won't surrender, we won't give up," he said in the video, saying he hoped to shine international attention on the independence cause. "I know that the path we have ahead is long and fraught with difficulties."
The story broke in a report in Catalan newspaper El Nacional earlier on Thursday.
Puigdemont said he planned to step aside temporarily to allow someone else to assume the presidency during his continued self-imposed exile in Belgium. He said the move is "the only way to create a new government" for Catalonia under the current circumstances.
Puigdemont tapped Jordi Sanchez to assume the candidacy. Sanchez is an influential pro-independence campaigner who is currently in jail in Madrid on charges of sedition.
In the video, Puigdemont called it unconstitutional to continue holding Catalan politicians in jail over their calls for the region's independence.
Lawmakers in Catalonia's separatist-dominated regional parliament had spent the day proclaiming Puigdemont as their legitimate leader, in defiance of Spain's Constitutional Court ruling that he can't take office. The court said the regional president must physically be in parliament to take office. Puigdemont has said he fears he will be arrested if he returns to Spain.
Symbolic leadership?
Various Spanish media outlets had pondered whether Thursday's parliamentary motion was a first step in appointing a presidential candidate other than Puigdemont, and at the same time offering him a "symbolic" role from Belgium.
But the appointment of 53-year-old Sanchez would be problematic given that he has been in jail for more than four months. The Supreme Court has so far rejected all petitions for bail. Rumours of his appointment previously prompted the Minister of Justice, Rafael Catala, to say it was difficult to imagine a president who was "in prison."
Madrid has been directly ruling Catalonia since Spanish Prime Minister Mariano Rajoy took control of the region after it illegally declared independence in October. On Thursday Rajoy said Catalonia must choose a leader "who is in Spain… and who has no problems with the law."
Rajoy is due to chair a cabinet meeting on Friday to discuss the latest developments to see if they could be bought to the Constitutional Court, Spanish news agency EFE reported.
Human rights case
Puigdemont said in the video that he had assembled a team of lawyers to represent him at the United Nations Human Rights Committee. He claims claims that Spain violated the right of self-determination.