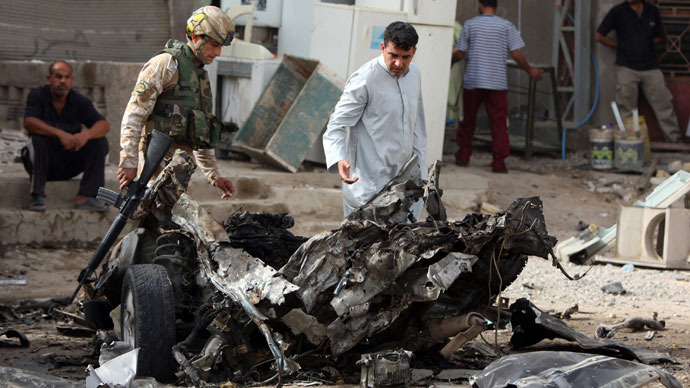 A car bomb exploded near a cafe in northeastern Iraq on Monday, killing 11 people and wounding 23, police said, as the country grapples with its deadliest violence in at least five years.
The explosion took place in Buhriz, 60 km (35 miles) northeast of Baghdad, close to a cafe popular with members of the government-backed Sunni Muslim Sahwa militia.
The force of the explosion pushed Ahmed Saied off his chair at a nearby store, wounding him in the leg.
"I opened my eyes minutes later and dust covered the place. Many cars were burning and shrapnel was everywhere," he told Reuters by telephone. "While police were evacuating me, I saw many killed and wounded people at the scene."
No group has claimed responsibility for the bombing in Diyala province, but Sunni insurgents linked to al Qaeda have frequently attacked Sahwa members this year.
The Sahwa, backed by US troops, helped defeat al Qaeda at the height of Iraq's sectarian slaughter in 2006-2007.
Al Qaeda-linked insurgents have regained ground since US forces left in 2011 and a civil war erupted in neighboring Syria, where Sunni militants have done much of the fighting.
The Shi'ite-led government in Baghdad blames al Qaeda for a surge in violence this year, which the United Nations says has killed more than 8,000 people.
Bomb attacks have mostly targeted Shi'ite civilians, but Sunnis seen as supportive of the government are also at risk.
Earlier this month a suicide bomber in another area of Diyala province, blew himself up at the funeral procession of a prominent tribal sheikh linked to the Sahwa, killing 10 people.