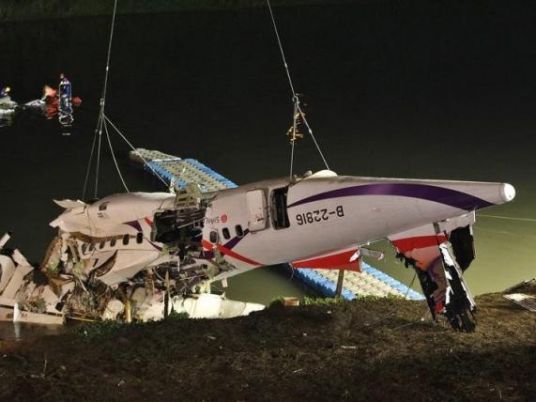 The pilot flying a TransAsia Airways (6702.TW) ATR mistakenly switched off the plane's only working engine seconds before it crashed in February, killing 43 people, Taiwan's Aviation Safety Council (ASC) said in its latest report on Thursday.
The ASC's report also showed that Captain Liao Jian-zong had failed simulator training in May 2014, in part because he had insufficient knowledge of how to deal with an engine flame-out on take-off.
"Wow, pulled back the wrong side throttle," Liao, 41, was heard to say on voice recordings seconds before the crash.
There appeared to be confusion in the cockpit as the two captains tried to regain control of the plane after one engine lost power about three minutes into the doomed flight.
Liao reduced the throttle on the working engine but did not appear to realize his mistake until it was too late.
He tried to restart the engines several times before a junior first officer in the cockpit said: "Impact, impact, brace for impact."
Those were the chilling last words heard on the data recordings, according to the latest report of the ASC's investigation into the February 4 crash.
Seconds later the almost new ATR 72-600, which had 58 people on board, crashed upside down into a shallow river in Taipei after it lurched between buildings, clipping an overpass and a taxi.
Fifteen people survived but all three pilots and 40 passengers and other crew died in the second crash involving a TransAsia ATR plane in a year.
A source with direct knowledge of the report told Reuters on Wednesday the working engine had been shut off.
Failed simulator training
The ASC report, which neither assigns responsibility nor suggests recommendations, paints a more detailed picture than a preliminary report released days after the crash.
Liao, a former air force pilot, began flying commercial aircraft in 2009 and joined TransAsia the following year. He was promoted to captain in August 2014 and joined the ATR 72-600 fleet in November.
He had a total of 4,914 flight hours on ATR 72 planes.
However, the report showed that Liao failed the simulator check in May 2014 when he was being evaluated for promotion. Assessors found he had a tendency not to complete procedures and checks, and his "cockpit management and flight planning" were also found wanting.
However, he passed after a second simulator check on June 29 and 30 and was promoted to captain, although similar problems were detected during training from July 2-10 last year.
Instructors commented that he was "prone to be nervous and may make oral errors during the engine start procedure" and displayed a "lack of confidence", the report shows.
Issues cropped up again during training for the ATR 72-600 in November, when an instructor said Liao "may need extra training" when dealing with an engine failure after take-off.
After the crash, Taiwan's Civil Aeronautics Administration put TransAsia's ATR pilots through oral proficiency tests on how to handle an aircraft during engine failure.
All but one of the pilots passed the tests, although some needed more than one attempt. The lone failure was demoted in rank to vice captain from captain.
The airline now has 61 ATR pilots.
TransAsia president Fred Wu told a media conference later on Thursday the airline would buy an ATR flight simulator, bring in outside experts to evaluate pilots, and launch a safety improvement program with Airbus (AIR.PA).
ATR is a joint venture between Airbus and Alenia Aermacchi, a subsidiary of Italian aerospace firm Finmeccanica (SIFI.MI).
The airline has reached a settlement with the families of seven passengers, and negotiations were underway with the rest, said TransAsia CEO Peter Chen.
A draft of the final report will be issued in November with the final report, which will include the cause of the crash and recommendations, to be completed in April 2016.