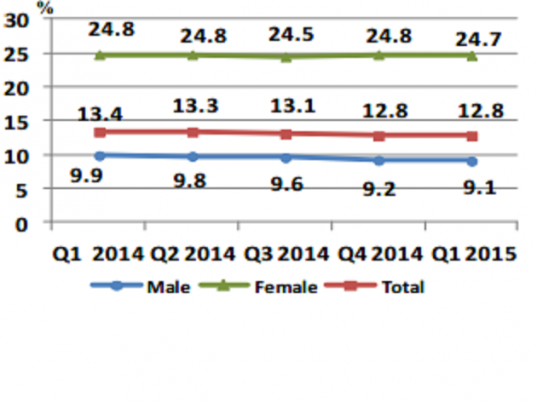 Egypt's unemployment rate edged down to 12.7 percent in the second quarter of 2015, from 12.8 percent in the first quarter and below the 13.3 percent recorded for the same period last year, the statistics agency said.
President Abdel Fatah al-Sisi has pledged to reduce joblessness to 10 percent over the next five years. The 2011 uprising against Hosni Mubarak was partly fuelled by anger over the lack of job prospects for young Egyptians.
Egypt's labour force added 66,000 new jobs during the second quarter to reach 27.8 million, the statistics agency said in a statement, citing an "improvement in some economic activities."
But unemployment for those between the ages of 15 and 29 was 26 percent for the second quarter and 44.6 percent for those holding a university degree or higher, it said.
A survey earlier this month showed that non-oil private sector employment in Egypt fell in July at the fastest rate in three months, although the decline was modest.
Analysts believe actual unemployment may be higher than the official figures.