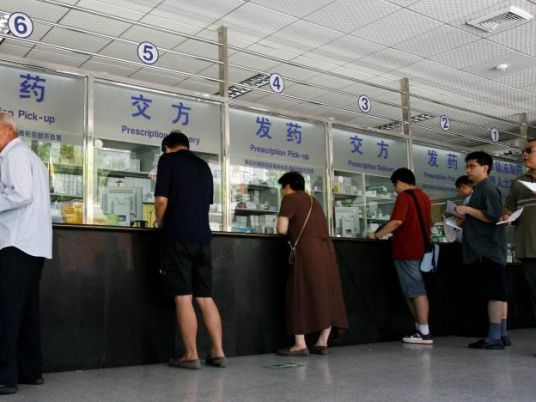 China is set to add more than 300 new and traditional drugs to its list of medicines that the state will help patients pay for, the first change in more than seven years that will boost treatments for cancer, kidney disease, hepatitis and haemophilia.
Blockbuster drugs such as GlaxoSmithKline's hepatitis drug Viread, AstraZeneca's heart drug Brilinta and Sanofi's chronic kidney disease drug Renvela were up for inclusion over the coming weeks, industry executives said, virtually guaranteeing an uplift in sales.
Industry insiders and analysts said oncology drugs were also likely to be added to national and regional lists. Poor access to targeted cancer drugs is a hot-button issue in China, where patients often take on crippling debts or turn to grey markets to get treatment.
Changes to the National Reimbursement Drug List (NRDL), which determines which drugs are part-sponsored by the government, will be a welcome shot in the arm for global drug companies, most of whom saw sales growth slow or contract last year in the world's number two pharmaceutical market.
"It's pretty much the most important list to get on. Being added can really mean sales of a drug skyrocket," said a Shanghai-based executive at a large British drugmaker.
Inclusion on the NRDL means a drug is accessible through state insurance schemes, making it affordable to mass market consumers. Any new drug approved for sale since the last update of the list in 2009 was until now largely paid for out-of-pocket by patients.
Most additions to the list, currently just over 2,000 strong, will be traditional Chinese medicines, but roughly 130 are expected to be modern drugs.
"Inclusion on the list reduces the burden of self-pay, as drugs on the list can be reimbursed up to 80 percent depending on local implementation," said Jordan Liu, Shanghai-based associate principal at healthcare research and services company QuintilesIMS.
An executive at another global drugmaker said the list was expected to be published in the "first few months of 2017", though some analysts said it could be as early as the Lunar New Year holiday that starts later this week. There could be a further negotiation period for high-priced drugs.
Major Volume Boost
Drug companies have spent months lobbying government advisory committees to get their drugs on the NRDL, executives said. The experts on these committees vote for which drugs to include.
The Ministry of Human Resources and Social Security (MOHRSS) and the finance ministry are then involved in a final decision, based on factors including clinical need and cost – though several industry insiders said the process was opaque and the measures used to judge criteria such as clinical effectiveness were unclear.
Even once on the NRDL, drug makers negotiate pricing and access for their drug on separate provincial lists.

Chinese customers buy medicines at a pharmacy in Beijing, China (File Photo; Reuters).
Access to the country's main lists – which includes the NRDL along with the Essential Drug List (EDL) for the most critical drugs – also comes with strings attached.
Drugmakers often have to cut prices steeply to be included, helping China's drive to lower drug prices and rein in a healthcare bill McKinsey estimates hitting US$1 trillion by 2020.
"To gain market access, it's crucial for companies to be able to show the value of their therapies in terms of improved outcomes and optimized overall cost-of-care," added QuintilesIMS's Liu.
GlaxoSmithKline agreed to a 67 percent cut to the price of hepatitis B drug Viread in May, eyeing in return a major volume boost. GSK declined to comment for this story.
Rare Opening
Drugmakers say the update will improve access to medicines for Chinese patients, who often have to wait years after drugs are approved in other countries or pay for the latest drugs out-of-pocket.
"AstraZeneca is pleased that the China government has opened a review of the national drug reimbursement list, which will benefit patients in China in terms of both access and affordability of innovative and high quality drugs," said Laurence Huang, vice president of government affairs for Asia.
Analysts said local firms could benefit too. CSPC Pharmaceutical Group Co Ltd, Sino Biopharmaceutical Ltd, 3SBio Inc have drugs that have a good chance to get on to the NRDL.
Dublin-based drugmaker Shire, which specializes in rare diseases, told Reuters in November that it hoped to get its haemophilia treatment on the main section of the NRDL as part of a drive to double its Asian sales by 2020.
Patients currently have only limited access to the drugs.
"This is a rare opening of the NRDL. It is a window of opportunity," said Peter Fang, Shire's head of Asia Pacific.
Reporting by Adam Jourdan; Editing by Clara Ferreira Marques and Alex Richardson; Reuters