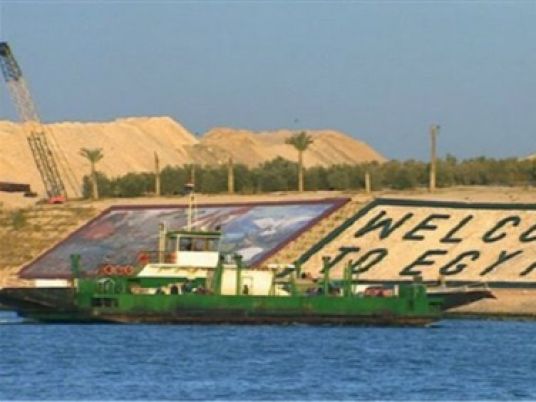 Prime Minister Sherif Ismail declared the East Port Said Canal officially open on Wednesday at a ceremony attended by numerous ministers, officials and ambassadors.
The new canal, which is 9.5 km long, links the East Port Said Harbor with the northern entrance of the Suez Canal at the Medtierranian Sea. It was constructed to povide direct access to the harbor without hindering traffic along the Suez Canal.
Among those present at the opening ceremony were the ministers of housing and transportation, along with the governor of Port Said.
Also attending was Suez Canal Authority Chief Mohab Mamish, who said in press statements that the construction of the new canal had been sped up due to its importance, taking just three months to compelete, rather than the predicted seven months.
It was build in cooperation with the US company Great Lake and the Belgian company Dredging International. According to Mamish, the dredging work started on November 15, with over 12.5 million square meters of material removed at a cost of US$37 million.
The project is part of the much larger Suez Canal Area Development Project, which has been a key national prestige effort promoted by President Abdel Fattah al-Sisi.
Mamish said the new canal is expected to raise the international rating of the port, as well as increasing the amount of materials that pass through it.
"The East Port Said harbor is considered part of the economic development project for the Suez Canal area," said Mamish, "which includes developing six ports, starting with the southern entrance to the Suez Canal at Ain al-Sokhna, Adiba and Tor ports, as well as the northern entrances to the East and West Port Said Harbors, in addition to the port of Arish."
The opening ceremony coincides with the first Suez Canal Global Conference, which aims to identify the challenges and opportunities facing the shipping sector, while supporting maritime transport.
On the first day of the conference, Mamish invited attendees to join the opening ceremony for the East Port Said Canal.