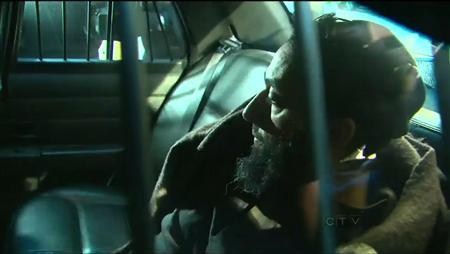 TORONTO/MONTREAL — Two men charged with an alleged Al-Qaeda-backed plot to derail a Canadian passenger train made their first court appearances on Tuesday, and the lawyer for one said his client would fight the charges vigorously.
Raed Jaser, 35, of Toronto and Chiheb Esseghaier, 30, of Montreal face charges that include conspiring with each other "to murder unknown persons … for the benefit of, at the direction of, or in association with a terrorist group."
They were arrested on Monday in separate raids after what police said was a joint Canada-US investigation that started in the middle of last year after a tip from a member of the Muslim community.
Officers detained Jaser at his home, a semi-detached house in a north Toronto neighborhood, and arrested Esseghaier at a McDonald's restaurant at Montreal's main train station.
Canadian police said the plot involved a passenger train route in the Toronto area, and that there had been no immediate threat to rail passengers or to the public.
US officials said that the suspects were believed to have worked on a plan involving blowing up a trestle on the Canadian side of the border as the Maple Leaf, Amtrak's daily connection between Toronto and New York, passed over it.
They said investigators on both sides of the border were trying to establish if the suspects had associates in the United States, especially in New York City. One source said Esseghaier, in particular, was believed to have made several trips to the United States. CBC Television said Canadian police had tracked him for a year, including on a visit to a conference in Mexico.
In custody
Jaser, heavily bearded and wearing a black cap, was remanded in custody after a brief hearing in Toronto. Media were barred from giving details of Jaser's hearing under a publication ban requested by his lawyer.
"He denies the allegations and he will vigorously defend them," said the lawyer, John Norris, who has represented Canadian Guantanamo detainee Omar Khadr, as well as Asad Ansari, one of a group of Toronto-area men charged in 2006 with planning attacks on Canadian targets.
Norris would not disclose Jaser's nationality, saying the publication ban precluded discussing Jaser's personal circumstances. He said Jaser has been a resident of Canada for 20 years.
Norris questioned the timing of the arrests, given a statement by police that the suspects posed no imminent threat. He noted that the arrest coincided with debate in Canada over a vote that would revive parts of the anti-terrorism act, which is supported by the Conservative government.
"The timing of the arrest is a bit of a mystery," he said.
Denying the charges
Outside the courtroom, a middle-aged man and a woman in a cream-colored hijab identified themselves as members of Jaser's family, but would not answer questions.
With them were two younger men, and two women in full black niqab face veils, who fled when confronted with a throng of reporters, photographers and television crews.
Neighbors of Jaser told Reuters that he mostly kept to himself and attended a Masjid al-Faisal, a mosque in a refashioned house a short walk from his home.
"He was a normal attendee. If he's coming he says 'salaam' to us and we say 'salaam' to him. Nothing more special, nothing more unusual, nothing more abnormal," said Rana Khan, a congregant at the mosque. His alleged involvement in a plot was "a very, very shocking news for all of us over here."
Esseghaier, a Tunisian-born doctoral student at a Montreal-area university, was flown to Toronto on Monday, but was quickly returned to Montreal to meet a legal requirement that he appear in a Quebec court within 24 hours of his arrest.
Bearded and bespectacled and wearing a shabby blue-and-black winter jacket, handcuffs and leg shackles, he told the judge there that conclusions had been drawn from facts and words "that are only appearances."
A spokeswoman for the Institut National de la Recherche Scientifique near Montreal confirmed to Reuters that Esseghaier was a doctoral student at the research institute.
At the hearing he was remanded in custody, and federal prosecutor Richard Roy said he expected Esseghaier to be flown back to Toronto later on Tuesday for a court appearance there.
Esseghaier represented himself at the hearing, which was not covered by a publication ban.
Canadian authorities have linked the two men to Al-Qaeda factions in Iran. But they said there was no indication of Iranian state-sponsorship of the plan, which police described as the first known Al-Qaeda-backed plot on Canadian soil.
Deaths or injuries foreseen
"Had this plot been carried out, it would have resulted in innocent people being killed or seriously injured," Royal Canadian Mounted Police official James Malizia said on Monday.
Iran had some senior Al-Qaeda figures under a form of house arrest in the years following the September 11, 2001, attacks, but there has been little to no evidence to date of joint attempts to execute violence against the West.
However, a US government source said Iran is home to a little-known network of alleged Al-Qaeda fixers and "facilitators" based in the city of Zahedan, very close to Iran's borders with both Pakistan and Afghanistan.
Iran reacted angrily to being tied to the arrests. Canada last year severed diplomatic ties over what it said was Iran's support for terrorist groups, as well as its nuclear programme and its hostility toward Israel.
"No shred of evidence regarding those who've been arrested and stand accused has been provided," Iranian Foreign Minister spokesman Ramin Mehmanparast said, according to the Mehr news agency.