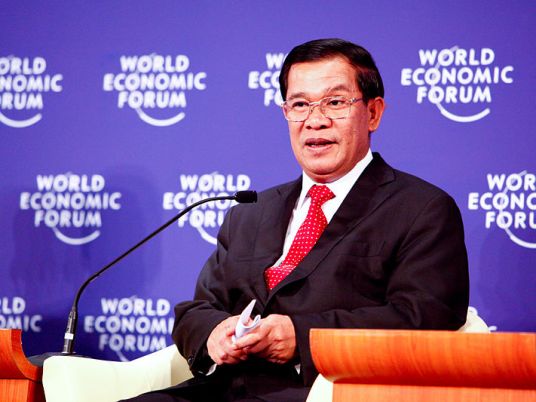 Cambodia's main opposition party accused long-serving Prime Minister Hun Sen of a "constitutional coup" on Wednesday and said it could call a general strike as it steps up protests over its complaints of vote-rigging in July's general election.
The Cambodia National Rescue Party (CNRP) led by former finance minister Sam Rainsy says it won the election and it boycotted the opening of parliament this week, leaving Hun Sen to be reappointed prime minister by lawmakers from his Cambodian People's Party (CPP).

"We condemn this National Assembly, this government which is the result of what we consider a constitutional coup, so we will not cooperate in any manner," Sam Rainsy told a news briefing.
"One idea in the air is a general strike across the country for one day. We will call a strike, so all factories, all civil servants, all shopkeepers will stop working that day," he said.
Chea Mony, president of the Free Trade Union, Cambodia's biggest labour organisation, told Reuters he would ask his 100,000 members to join the protest, noting that the CNRP had promised to nearly double the minimum wage if it won power.
"What the government has promised before and now are just empty promises," Chea Mony said. "I will support the CNRP protest."
The National Election Committee says Hun Sen's CPP won 68 seats in the election to the CNRP's 55.
That was already a big setback for the authoritarian premier, but the CNRP claimed victory, saying it was cheated out of 2.3 million votes, and it has held a series of protests to press for an independent inquiry.
Hun Sen said on Tuesday that in talks last week the CNRP had seemed more interested in getting top jobs in the National Assembly, including parliamentary president, than pressing for any inquiry.
CAMPAIGN ON RECOGNITION, BUSINESS
Giving his side of the story, Sam Rainsy said the CNRP had insisted on an independent investigation but had also suggested that, while that was going ahead, the opposition could take control of parliamentary procedures while the CPP remained in charge of the executive branch.
He said the CNRP would launch a campaign to try to get other countries not to recognise Hun Sen's government and to urge foreign companies not to do business deals with Cambodia.
Hun Sen, 61, has been in power for 28 years and has vowed to rule Cambodia into his seventies.
He portrays himself as the man who saved Cambodia from the terror and chaos of the Khmer Rouge years in the 1970s and the war that followed.
But his iron-fisted rule and widespread corruption alienated many young people who did not live through that era and who turned to the CNRP in the election.
At the first meeting of the new cabinet on Wednesday, which was carried live on television, Hun Sen promised to give civil servants a pay rise and said his government would fight corruption and reform the judiciary.
And the premier, who generally brooks no dissent from inside or outside his party, invited criticism from his team.
"You'll have to keep a check on me regularly," he said. "That's your duty as politicians."