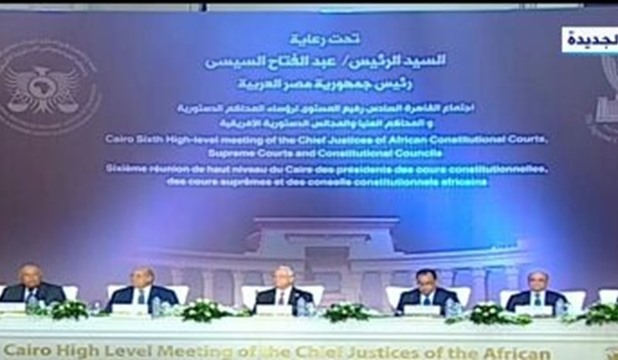 Cairo's sixth high-level meeting for Presidents of Constitutional and Supreme Courts and African Constitutional Councils kicked off Saturday.
The meeting is hosted by the Supreme Constitutional Court under the sponsorship of President Abdel Fattah El Sisi.
The meeting was attended by Prime Minister Moustafa Madbouli and as many as 40 African countries are taking part in it to represent 51 heads of constitutional courts and councils and supreme courts.
The opening session was attended by President of the Supreme Constitutional Court Boulos Fahmy, Speaker of the House of Representatives Hanafi Gebali, Speaker of Senate Abdel Wahab Abdel Razeq, Foreign Minister Sameh Shoukry, Justice Minister Omar Marwan and SCC Vice President Mohamed Emad el Naggar, who is also the meeting's secretary general.
The meeting offers an opportunity for probing constitutional issues of mutual concern among African countries and aims to boost judicial, legal and constitutional cooperation in Africa.