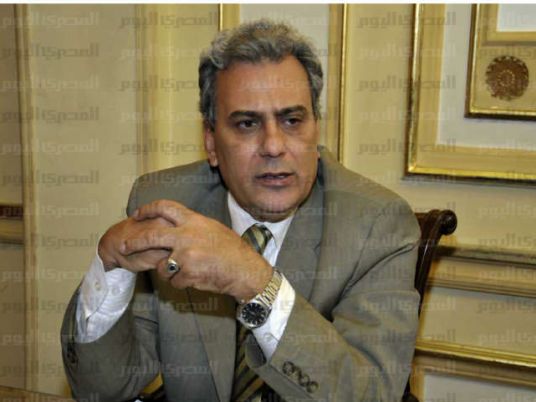 Cairo University President Gaber Nassar announced on Wednesday that the university would no longer make reference to the religious affiliation of its staff, students or applicants on any of its paperwork, removing the religion field on all application forms and certificates.
Nassar said that he had received several complaints from students regarding possible discrimination on the grounds of their religous identity, in conflict with passages in the Egyptian Constitution that prohibit such discrimination.
"I was shocked recently to find that one of the academic staff was distributing an application form to post-graduate students asking them to state their religion and denomination," Nassar told Al-Nahar Al-Youm satellite channel.
The decision came into effect on Tuesday at all Cairo University faculties and institutes, at both undergraduate and postgraduate levels. Nassar said that disciplinary action would be taken against anyone who violates the rule.
Article 53 of Egypt's 2014 constitution states that all citizens are equal before the law.
"They are equal in rights, freedoms and general duties, without discrimination based on religion, belief, sex, origin, race, color, language, disability, social class, political or geographic affiliation or any other reason. Discrimination and incitement of hatred is a crime punished by law," the article reads.
Nassar said that the administration of Cairo University never make decisions without good reason, and that there are no rules at the university requiring students or staff to reveal their religion.
Nassar added that the decision would have no negative legal, scientific or social impact, since all university students and staff are equal.
The decision follows a complaint from an applicant for graduate studies in September, who objected to being asked his religion during the application process. Mina Nader said he had applied to the Institute of African Research and Studies and was invited to an interview, during which he was asked to complete an application form.
According to Nader, the form contained a compulsory question on the student's religion, and his denomination if Christian. Nader said that the the interview itself was "not objective", causing him concern that he was being discriminated against on the basis of his religious affiliation.
Nader's application for study was rejected, and he attempted to contact Nassar to report the incident. He failed to speak with Nassar, but was able to speak with Amr Adly, the university's vice-president.
Nader showed Adly a copy of the application form, including the compulsory field relating to religion, and two days later the new policy was announced.
Nader posted the incident on his Facebook account along with photos of his application form.
"Why do a reputable research institutions ask this question?" he asked.

Mina Nader's application form, as posted on his Facebook account.
Cairo University coincides with discussions on possible legislation to remove the religious affiliation field on Egyptian identity cards.
Four months ago, PM Alaa Abdel Moneim revealed that the Committee for Constitutional and Legislative affairs will discuss new legislation on the issue in the near future.
Human rights activists have long campaigned for such a step, saying that Egyptians are often discriminated against on the basis of their religion, including by government officials.