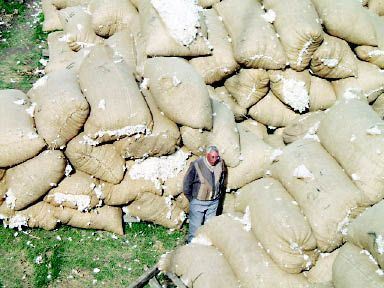 Growers of Egypt's high quality cotton will no longer receive any state support and have been advised not to plant the crop unless they have contracts to sell it, a move some traders say is a final blow to the long-neglected industry.
The market for Egypt's high quality extra long staple cotton, once known as the country's "white gold", has been shrinking for years. Farmers have turned to more lucrative crops and local textile firms have shifted their focus to creating low-quality products with cheap raw cotton imports.
Agriculture Minister Adel el-Beltagy said on Tuesday the government will no longer pay the subsidy of 350 Egyptian pounds per qintar of cotton (160 kg), as much as 40 percent of the domestic market price in the current season.
He said cultivation of Egypt's long and extra long cotton, which competes with the U.S. Pima variety for high quality fibres, was too expensive and Egyptian factories no longer bought local cotton because of the availability of far cheaper short cotton.
The liberalisation of Egypt's cotton sector in 1994 exposed farmers to volatile global prices and rising fertiliser costs. Cotton acreage has fallen dramatically since the heyday of the 1960s, when Egypt produced cotton from up to 2.2 million feddans (924,000 hectares), helped by fixed state prices.
One Egyptian cotton trader said planted acreage had dropped last season to around 350,000 feddans.
"In almost all countries the cotton crop is supported by some kind of subsidy so it is very de-motivating that Egypt is taking away the subsidy from its farmers now," he said.
The government will ask spinning and weaving companies to sign contracts with farmers for long staple cotton according to their needs, Egypt's Trade and Industry Minister Mounir Fakhry Abdel Nour said.
Deputy Agriculture Minister Hamdy Aasy told Reuters that removing subsidies would benefit farmers because instead of the government giving direct support to producers amid price volatility in the global market, it will help coordinate favourable contracts between companies purchasing the crop and the farmers.
"This will give (farmers) a profit margin instead of dealing with the free market that goes up and down and endangers them with price fluctuations."
According to the state-run statistics agency CAPMAS, cotton exports in the second quarter of Egypt's current financial year that began in July were 109,600 metric tonnes, down nearly 70 percent from the same quarter in 2013.