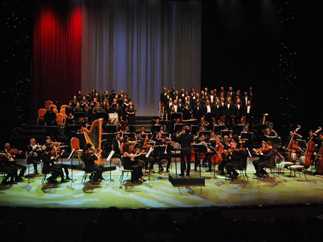 The Cairo Opera Troupe, under the supervision of its artistic director Iman Mostafa and accompanied by pianist Gregory Martin, will give two concerts directed by Hazem Roshdy, at eight pm on Saturday and Sunday, October 30 and 31.
Titled "Fragrance from the Past", the program will feature beloved international songs, including Think of Me, Santa Lucia luntana, Thousands of Years, My Way, I Won't Send Roses, Art Is Calling for Me, Forever, Moscow Nights, Love Story, The Stars, My Heart Will Go On, Speak Softly Love, Drenched in Love, and What a Wonderful World.
The songs will be performed by Mostafa, Reda al-Wakeel, Tahia Shams Eddin, Mostafa Mohamed, Mona Rafla, Walid Karim, Imad Adel, Julie Faizy, Nisreen Roshdy, Jihan Fayed, Anjy Mohsen, Ezzat Ghanem, Amr Medhat Osama Ali, Laila Ibrahim, Norsta al-Marghany, Ibrahim Nagy, Tamer Tawfik, Osama Gamal, Burhan Eddin Farouk, and Salma al-Gabaly.
The Cairo Opera Troupe was founded in 1964 and presented many of the most famous international operas, as its repertoire includes more than 32 famous operatic novels. Its members also participated in huge performances on the largest theaters in the world and succeeded in forming a fan base interested in operatic singing as one of the finest art forms.