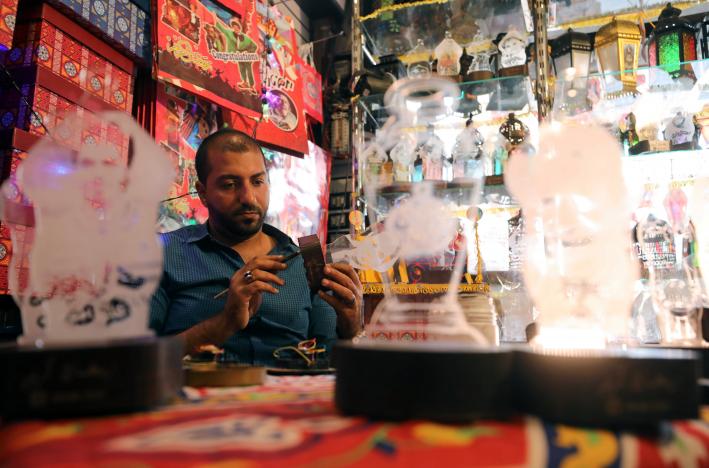 An Egyptian artisan who makes the traditional lanterns that adorn Middle Eastern streets during the Muslim holy month of Ramadan believes he has found a way to stop a flood of Chinese replicas and save his ancient craft.
In his workshop in Cairo's Imbaba neighborhood, Mohamed Gamal affixes acrylic portraits of Egyptian footballers, pop stars and presidents to the lanterns, known locally as fawanees.
He hopes his modern take on the traditional wooden lanterns believed to date back to Egypt's 12th-century Fatimid dynasty will stop them from being undercut by new Chinese imports.
"I've worked with lanterns for 10 years and wooden lanterns have been the most popular during this time. I wanted to do something different," said Gamal.
Mohamed Gamal works on a lantern with a portrait of Abla Fahita, a puppet television host, in Cairo, Egypt May 16, 2017
Chinese products have flooded Middle Eastern markets for years but are becoming increasingly popular in Egypt, where ordinary people and businesses like Gamal's are struggling amid rampant inflation.
Import-dependent Egypt floated its currency in November, roughly halving the pound's value. It now hopes the cheaper currency will encourage local manufacturers like Gamal to make products that can replace more expensive imports, narrowing its gaping trade deficit.
A lantern with a portrait of Egypt's President Abdel Fattah al-Sisi
The arrival in Cairo's shops last year of battery-powered Chinese lanterns touched a nerve among Egyptians who view the old candle lanterns as a symbol of national pride.
Following an outcry on social media about the dying handicraft, Egypt's Ministry of Industry and Trade issued a rare decree in 2015 banning imports of Chinese-made lanterns and other traditional Egyptian handicrafts.
But rows of the plastic knock-offs flash in the windows of stores near Gamal's workshop.
"All of the lanterns in the market, of course, are made in China, so my hope is for us to stop importing them," said Gamal. "In fact, my dream is for us one day to export our lanterns to China."
Mohamed Gamal works on lanterns with portraits of Egyptian professional football players; Stoke City's Ramadan Sobhi (L), AC Roma's Mohamed Salah (C), and FC Basel's Omar Gaber
A general view of Mohamed Gamal's shop is seen as he works on making a lantern
Reporting by Arwa Gaballa; Writing by Tom Finn; Editing by Eric Knecht and Tom Heneghan
Photo Credit: REUTERS/Mohamed Abd El Ghany