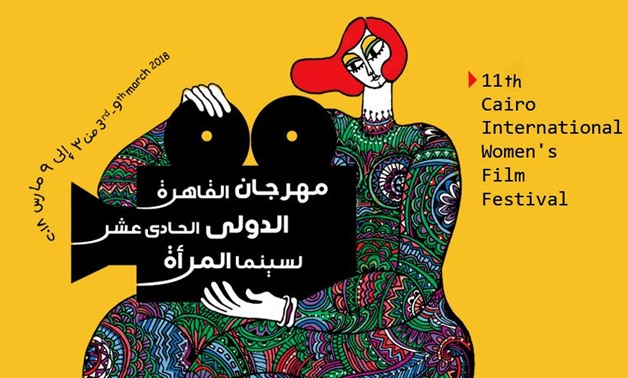 In its 11th edition, the Cairo International Women's Film Festival (CIWFF) will be taking some Egyptian movie theatres by storm this week, screening 54 films from 34 different countries including feature, documentaries and animated films, all carried out by female filmmakers.
Kicking off on March 3, and running until March 7, the festival will open with the Algerian Film "Until the End of Time," attended by its director Yasmine Chouikh. The screenings will be held at Zawya Cinema, The Goethe Institute, The French Cultural Institute, and the Creativity Center.
The festival will include an International Panorama section, which will include 20 of the most important films of 2018, to be screened for the first time in Egypt. The section includes the Japanese film "Radiance" by director Naomi Kawase, the Iranian film "Gaze" by director Farnoosh Samadi, the Brazilian film "Nalu on the Border" by Cristine Oliveira and the Serbian film "The Other Side of Everything", which won the IDFA Best Feature-Length Documentary and will be screened for the first time in the Arab region.
According to a press release by the festival, the Arab-Iberoamerican section  includes 9 films including the Argentinian film "The Desert Bride" by directors Cecilia Atan and Valeria Pivato, which premiered at the Cannes Film Festival, as well as the Tunisian/British film "The Man Behind the Microphone" by Claire Belhassine, which tackles the life of the Tunisian singing icon Hedi Jouini. It will also be screening the Spanish film Summer 1993, which won the Best First Feature Award at the Berlin International Film Festival and the Best First Feature in Spain.
Additionally, the animations section will feature 8 films from Switzerland, Canada, Netherlands, Argentine, Norway and Egypt.
Lebanon has been selected by the festival as the country in focus this year.
"This will be the first time the festival hosts an Arab country for this section. We selected Lebanon because of its unique filmmaking experience that has been evolving over the past years, and the leading role women have had in its recent cinema production, whether in features or documentaries," the press release read.
CIWFF is also celebrating its 11th edition with a new project to support women filmmakers in their post-production stage by launching the "Rough-Cut" workshop.
Six films from the Arab region are reportedly participating in the workshop, which will be held parallel to the festival. As explained in the press release, the directors of these films will be meeting with a jury of experienced women filmmakers to guide them through the development of their films. The festival will provide the winning film/s with post- production support.
The first edition of CIWFF was held in 2008, aiming to present films made by female filmmakers and encourage a rising number of females into making unique art.