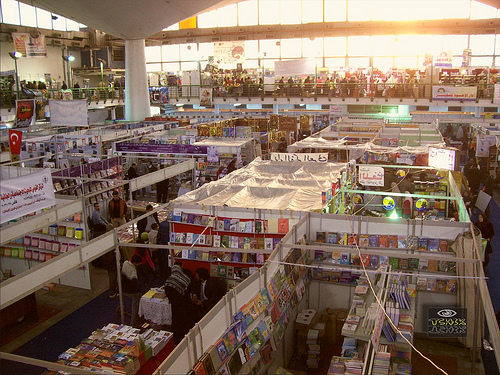 The Cairo International Book Fair's total number of visitors reached 2.5 million people on February 1, the Director of the Cairo International Book Fair Islam Bayoumy said, adding that January 31 saw the fair's highest number of visitors at 586,000.
Bayoumy said that the The General Organization for the Cultural Palaces' (GOCP) sales reached  two million EGP due to discounts were offered on several books. The GOCP will also offer new discounts on books in February 3 and 4, selling books at prices between LE one and LE20.
The GOCP's best-selling books are Milad Hana's "Identity" encyclopedia which contains ten parts on Egypt's history including the 'seven pillars to Egyptian identity', Mohammed Shafiq Ghabrial's "Takween Misr", the "Qatr al-Nada" Magazine, the Afaq Alamia series and the masterpieces of World Theater, Zakert al-Ketaba, Faazon and Hekayet Masr series.
Entitled "Egypt –Africa, A Culture of Diversity," the book fair witnessed the participation of 40 Arab and foreign countries, the participation of 900 publishing houses, including 594 Egyptian publishers, 255 Arab and foreign publishers, seven e-book publishers, and 41 Al-Azbakeya book stores.
Edited translation from Al-Masry Al-Youm