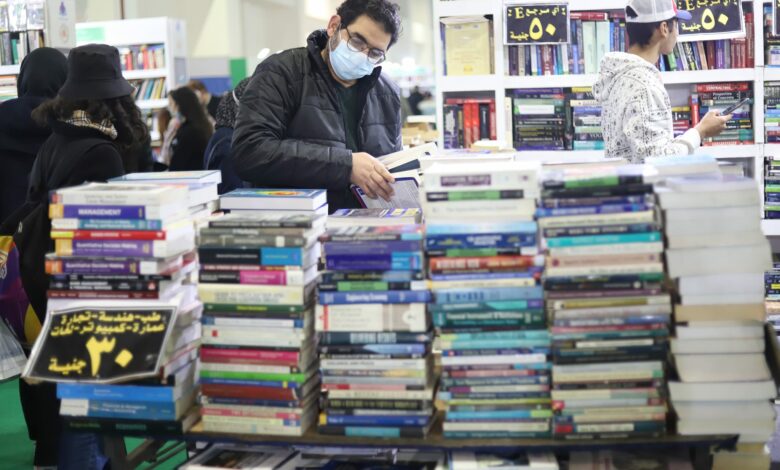 The management of the Cairo International Book Fair announced that the number of visitors to the exhibition on its seventh day reached 82,000 visitors.
Bringing the total number of visitors in the first week to over 530,000 visitors.
"Your Book, Your Culture" initiative achieved remarkable success for the second consecutive session and topped the list of the most sought-after books.
Sales reached nearly 65,000 copies including religious, heritage, self-development, philosophy and other books.
The e-platform of the exhibition meanwhile recorded more than 87 million visits, and the number of registered visitors reached about 520,000.
The number of virtual tours of the exhibition reached about 8,000 tours.
Tickets booked on the e-platform amounted to about 160,000 tickets, and the number of book views nearly 133,000.
While the cultural salon of the exhibition held so far 141 events that witnessed a great intellectual impetus that varied between conferences, meetings and seminars hosting many intellectuals, artists and academics.
Artistic events held recorded 71 events that witnessed remarkable interaction from the audience. The events varied between playing musical instruments, singing, religious chanting, folk arts, and reciting poetry.
The pavilion devoted to children's activities witnessed a great turnout. The activities were divided into the stories corner, interactive workshops, artistic workshops and theatrical performances.
The visitors of the pavilion dedicated to children were able to watch one of the stories of the late writer Abdel Tawab Youssef, using 3D glasses.
The hologram technology appeared prominently in a number of the events of the Cairo International Book Fair, as it was used to depict late writer Yahya Haqqi, who was chosen to be the character of the exhibition this year.
Haqqi's depiction gained a great turnout, especially from his fans who had the opportunity to speak with him through a serious of ten questions.