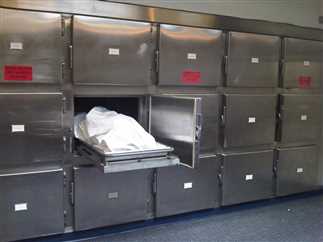 Security services in Cairo arrested on Thursday a suspect accused of killing his wife, decapitating her and cutting off her hands after a quarrel, in Cairo's al-Marg neighborhood.
The police received a communication saying a woman's body was found on Ibrahim al-Mahdy Street, wrapped in two blankets within a plastic bag in a box, after which security authorities immediately moved to the scene.
The police identified the victim as 30-year-old Hala, a housewife.
The victim's sister, Naeema M., 33, had filed a claim saying her sister had been missing for a month-and-a-half. She identified the victim when she saw her body.
Naeema said her sister had a dispute with her husband, Saudi F., 35, who is unemployed.
Investigations revealed that Hala's husband was behind the crime. Police searched for him and he was arrested in Al-Mosky area. He confessed to committing the crime during interrogations.
Saudi F. said he had a verbal altercation with his wife after which he attacked her with a knife, separating her head from her body and cutting off both her hands in an attempt to conceal the identity of her body.
He dumped the body in the place where it was later found, and threw the head, hands, and the knife in a garbage pile under the Ring Road.
In his confessions to the police, Saudi F. said that he had moved his furniture and left his two sons Youssef, 7, and Abdel Rahman, 5, with his family in Manfaloat, in Assiut governorate, and returned to Cairo to work in Al-Mosky.
The prosecutors were notified and took over investigations.
Edited translation from Al-Masry Al-Youm