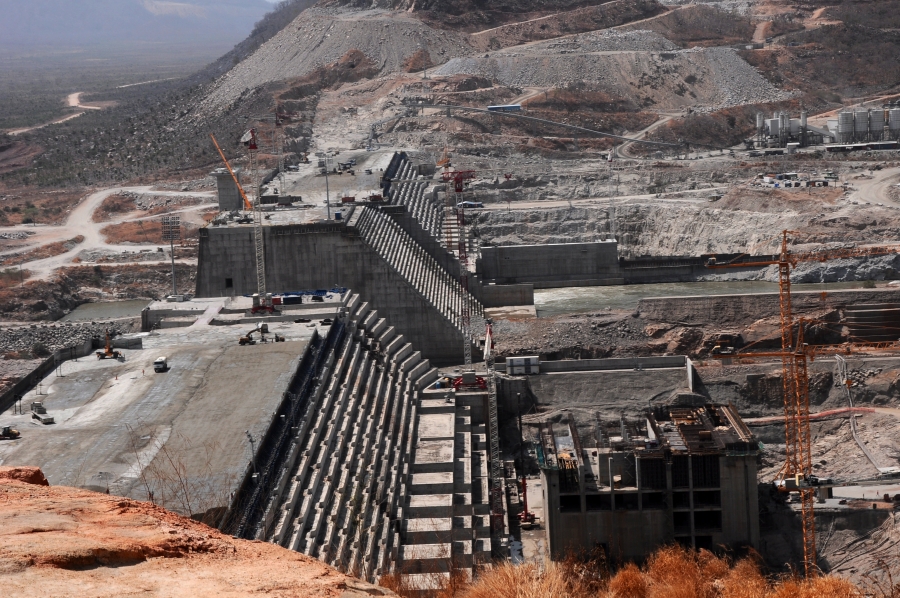 Egypt, Sudan and Ethiopia on Monday will meet in Cairo to resume negotiations over the Grand Ethiopian Renaissance Dame (GERD) with a second round of talks to resolve differences on filling and operating the dam.
Water ministers of the three countries, a representative of the World Bank and a representative of the United States will attend this round, which is the second of four rounds of negotiations that will end in Washington on January 15.
Khartoum is scheduled to host the third meeting in late December.
Addis Ababa will witness the final round ahead of the trilateral meeting of foreign and water ministers from the three countries in Washington.
The three countries are expected to continue to present their respective visions on the rules of filling and operation of the dam.
High-level government sources said that the Cairo meeting is scheduled to witness the presentation of technical elements governing the filling and operation process, to ensure a minimum annual discharge from the dam, in addition to the coordination mechanism between the three countries.
Cairo will also present a specific vision for the operation of the Ethiopian reservoir compatible with the dams in Egypt and Sudan.
The sources said that these are procedures followed in transboundary rivers all over the world.
The previous talks on November 15-16 in Addis Ababa discussed linking the filling of the GERD's reservoir with the hydrology of the Nile River during prolonged drought.
Egypt's Ministry of Water Resources and Irrigation stated that negotiations discussed the hydrology of the Nile during prolonged drought in several stages, in connection with the Blue Nile.
It explained that the hydrology of the Blue Nile should determine the number of years to fill the GERD's reservoir, which is a flexible approach that takes into account the demands of Egypt, Ethiopia and Sudan.
Monday's meeting will be the second meeting for the three countries since the Washington-hosted talks on November 6 between the delegations of Egypt, Ethiopia and Sudan, attended by the US Secretary of State and the president of the World Bank Group.
The delegations of the three countries agreed during the Washington meeting to reach an agreement on filling the dam by January 15, 2020.
Earlier in October, Egypt's Water Resources and Irrigation Ministry said that negotiations with Ethiopia had reached a dead end after the two sides failed to reach an agreement over the filling of GERD.
The Egyptian government blamed the failure of the talks on obstacles from the Ethiopian side.
Since Ethiopia started constructing the dam, Egypt has voiced its fears that the project would negatively impact its water supply. The other side stated the importance of this project to the Ethiopian economy.
Egypt relies considerably on the Nile for freshwater.
Edited translation from Al-Masry Al-Youm