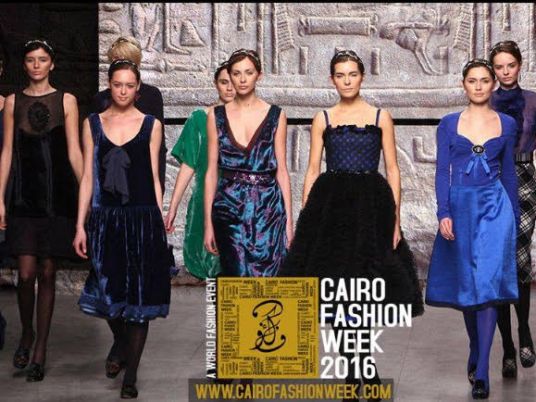 As Cairo traditionally used to be a city of fashion, for the second time now, Cairo fashion week (CFW) will be launched on Wednesday.
The first CFW was officially launched in Egypt in 2015. The fashion trade event comes complete with a quality ground for fashion defiles and rich seasonable collections, presented in multiple daily runway shows and exhibition showrooms.
The idea of the Week is to bring together major advocates and stakeholders of the fashion industry in Egypt and abroad, providing them a single platform in which to interact.
CFW will represent marketing and communication platform for brands, labels and designers from all fields of clothing, home textiles, furniture & decorations, fashion accessories, cosmetics, Jewelry and much more from all creative industries.
Moreover, along with a full schedule of catwalk shows featuring professional designer from all over the region, the CFW brings on new names to the fashion scene and supports young talented designers.
Some of the designers that will be participating include: Hany El-behairy, Amr El-Banna, Hisham Aboul Ela, Andria Mosaikos, Eirene Sapoutzi and Basema Salem.
"This exciting show in this exciting city is where big names come together to do big business. TheWeek enables local and regional designers and fashion houses to present their collection to global and regional buyers, media, fashion professionals, in addition to the general public," a press statement said.
Cairo Fashion week comes as part of the worldwide fashion weeks that were first launched in New York in 1943; then in Paris and in over 80 cities worldwide.
"With a strong international profile, Fashion Weeks has played a major role in the last 70 years in contributing to the growth and development of apparel, beauty and all other segments of the fashion industry," the statement said.
CFW is founded and organized by Hatem Salem, a member of Hatem Salem Communication companies, a full-service communication and event management group .
This year's event will take place at Fairmont Heliopolis Hotel.