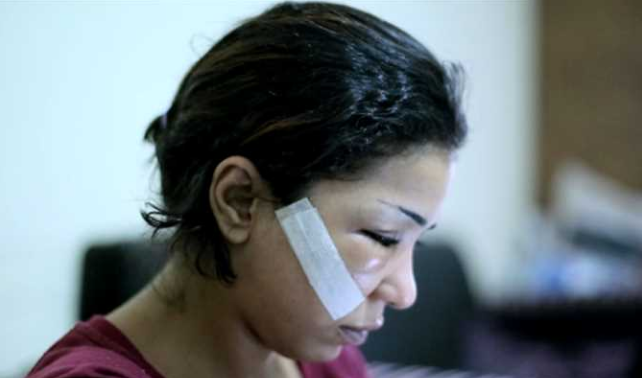 Cairo Criminal Court sentenced on Thursday a defendant accused of harassing a woman in a Heliopolis mall and stabbing her later with a bladed weapon to one year in prison.
In October 2017, two years after the controversial sexual harassment case of Somaya Tarek Ebeid, which occurred in 2015 and was known in popular media as the "Heliopolis mall girl", the same harasser stabbed his old victim in the face, as revenge for filing a complaint against him.
The defendant Hany A. was referred to a criminal trial this time over charges of beating the victim Ebeid and causing her a permanent disability in her face.
The sexual harassment incident goes back to October 2015 when Ebeid published a post on Facebook that claimed she had been sexually harassed by a man in a Heliopolis mall. She said the man slapped her after she verbally defended herself.
Ebeid said she filed a claim at the police station but the officers did not offer help, so she resorted to talking to the media. Ebeid published a video of the incident recorded on the mall's surveillance cameras.
In the video, a man talking to Ebeid then slapped her on the face before security personnel intervened to prevent him from beating her.
The defendant was acquitted of the sexual harassment charges and was sentenced to two weeks in prison over slapping her.
The perpetrator stabbed Ebeid in her face causing her a deep wound of 20 cm in revenge for filing a complaint against him and the two-week-prison sentence he served.
"At 3 PM (on Sunday), as I was entering a pharmacy I was surprised by someone calling my name. When I looked back, I found the harasser. I entered the pharmacy quickly, bought a medicine, and then tried to go back to my car quickly before he could catch me. But he ran after me and attacked me with a knife. He was tracking me after he left prison in preparation for the attack," Ebeid told Al-Masry Al-Youm in an interview in 2017.
"The defendant caused me a 20 cm deep facial wound that required 50 stitches. I underwent a LE60,000 surgery with the help of some friends," she said, pointing out that her face requires at least 6 cosmetic surgeries over a year to be close to normal.
The defendant was arrested by the police and confessed to stabbing Ebeid during interrogations.
Edited translation from Al-Masry Al-Youm