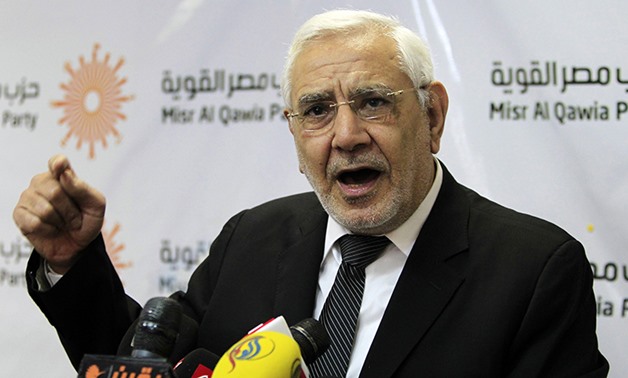 The Cairo Criminal Court on Tuesday ordered former-presidential candidate, and head of the "Strong Egypt Party", Abdel Moneim Aboul Fotouh be detained for a further 45 days, over accusations of leading a terrorist group.
The prosecution had earlier ordered Fotouh be detained for 45 days pending investigations back in May.
Egyptian security forces first arrested Fotouh on February 14, 2018 for alleged ties with Egypt's outlawed Muslim Brotherhood. He was also accused of spreading false news against state institutions.
He was taken away upon his return home from London, where he reportedly gave an interview to Qatari owned Al-Jazeera criticizing state policies and President Abdel-Fattah al-Sisi.
A prominent opposition figure, Fotouh led calls in January 2018 to boycott the presidential election. Sisi ran against a sole competitor, Moussa Mostafa Moussa, who was a staunch Sisi supporter.
The Interior Ministry said in a statement in February that it had monitored communication between Fotouh and the Muslim Brotherhood group in and outside the country.
According to the ministry, this communication sought to implement a scheme aiming to stir up confusion and instability, in conjunction with armed groups carrying out acts of sabotage against vital state institutions, creating disorder that would thereby enable them to return to the top of the political scene.
The Prosecutor-General ordered the seizure of Fotouh's funds among other individuals after the prosecution put their names on the terrorist list.
Edited translation from Al-Masry Al-Youm