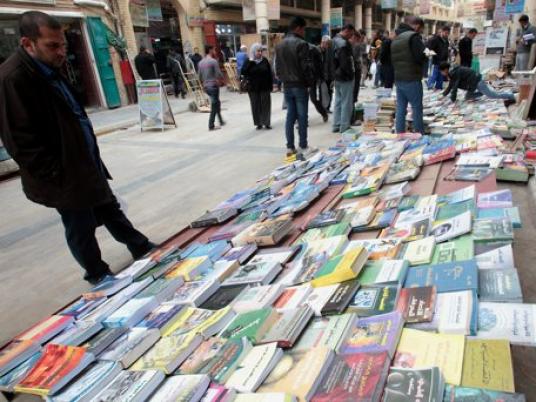 Ahmed Megahed, head of the General Egyptian Book Organization, announced on Tuesday the winners of the 44th Cairo International Book Fair prizes. The awards recognize the best 10 books published in 2012 in the fields of politics, fiction (collection of short stories and novels), poetry, arts, humanities, science, heritage and children's literature.
The best political book prize went to "The Secret of the Temple," by Muslim Brotherhood dissident Tharwat al-Kharabawy and published by Nahdet Misr. The book which presents a controversial account of the Brotherhood's history and internal politics was published in the fall, and has since gone into its 11th print.
"Al-Lazi Yoraby fi Baytih Hagar" (He Who Raises a Stone in His House) published by Kotob Khan and written by Taher al-Sharkawy received the best novel prize. Mohamed Ibrahim Taha's "Imraa Asfal al-Shorfa" (A Woman Below the Balcony), which is published by the General Egyptian Book Organization, was named best short story collection.
Other winners included: "Tofaha La Tafham Shai" (An Apple that Does not Understand) by Guirgis Choukri, published by the General Egyptian Book Organization, for best poetry collection; "Bishweish" (Slowly) by Ahmed Amin Haddad, published by Al-Ain Publishing House, for best colloquial poetry; "Marc Chagall" by the late writer Tharwat Okasha, published by the General Egyptian Book Organization, for best arts book.
The best book in humanities was awarded to Emad Abdel Latif for "Balaghat al-Horeyya" (Rhetorics of Freedom), published by Tanweer Publishing House. "Al-Asliha al-Biologia" (Biological Weapons), co-written by Mamdouh Hamed and Amany Qonsowa garnered the best science book award. It is also published by the General Egyptian Book Organization.
"Unpublished Articles of Ahmed Shafik Ghorbal" by Hossam Abdel Zaher and published by the Egyptian National Archives won the best heritage book prize.
Best children's book went to "Lamsat al-Om" (The Mother's Touch), by Naglaa Allam and published by Al-Dar Al-Arabiya lel Kitab.
Each awardee receives an LE 10,000 monetary prize. An LE 20,000 prize is also given to the best publisher, which went to the Iqraa Publishing House.
The Cairo International Book Fair has been extended until 9 February.
Edited translation from Al-Masry Al-Youm