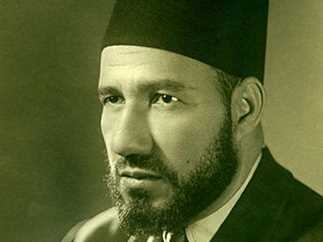 The Follow-up Committee of the Cairo International Book Fair, which is being held in the Fifth Settlement, confiscated a book on Friday by Muslim Brotherhood founder Hassan al-Banna that was displayed by one of the Arab publishing houses.
Islam Bayoumy, director of exhibitions at the General Egyptian Book Organization (GEBO) and director of the Cairo International Book Fair, told Al-Masry Al-Youm that during the inspection of the book fair wings, the Follow-up Committee found five copies of a book by Banna dubbed "Hassan al-Banna's Sayings" in the wing of the Moroccan publishing house of Dar al-Rashad.
Bayoumy added that the publishing house was warned against selling banned books or otherwise the wing would be shutdown.
The management of the exhibition said that the publishing house was not Egyptian and was not aware of the ban on such books in Egypt.
He pointed out that the management of the book fair only warned the publishing house without taking action against it since it is not Egyptian and was not aware of the ban on Banna's books.
The 50th edition of the Cairo International Book Fair is taking place from Wednesday, January 23 until February 5 in the Fifth Settlement district instead of its usual place in Nasr City.
The GEBO chose two iconic cultural figures to be the fair's characters this year: the late prominent Egyptian writer Tharwat Okasaha and the late significant novelist and politician Soheir el-Kalamawy. The Arab League will be this year's guest of honor.
Three African countries, namely Ghana, Nigeria and Kenya, will be participating in the book fair this year for the first time. There are 35 participating countries from all over the world, including 16 Asian countries, seven Europe countries and two from the American continent.
There will be 62 publishing houses in the book fair that are participating for the first time among 579 publishing houses, while 723 booths will be exhibiting and selling books.
The book fair's cultural agenda is full of diverse events and activities, including 419 cultural events and 144 artistic events. In addition to eight writing and plastic arts workshops, there will be over 500 book signings.
GEBO Chairman Haitham Al Hajj said that the ticket's price is reasonable at LE 3.
The GEBO announced that the reason behind changing the location of the fair this year is to offer better service and organization.
The GEBO announced that it will utilize 150 buses to transport the book fair visitors to the Fifth Settlement from 70 different lines across Greater Cairo, including Al Salam, Al Sayeda Zeinab, Abdel Moneim Reyad, Ahmed Helmy and Helwan. These buses will be marked with the book fair's stickers and the ticket will cost LE 5.