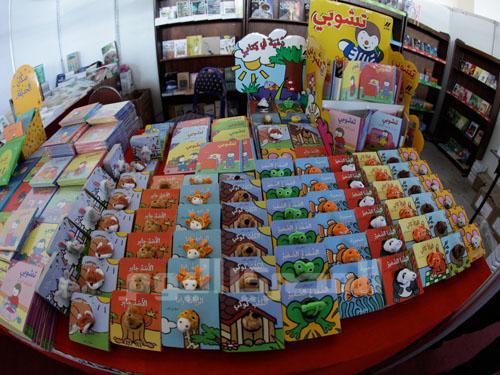 From the outset, the 43rd Cairo International Book Fair was surrounded by controversy. The government called for postponing it due to security concerns, but many opposed the move. The Egyptian Publishers Association warned that the fair would be crossed off the International Publishers Association list if was cancelled again. Others insisted on holding it on time because it constitutes a major cultural event with an average of 2 million visitors, but also because publishers would incur losses for the second year in a row after the cancellation of the 2011 fair. In the end, the General Egyptian Book Organization decided to hold the fair from 22 January until 7 February, with fair grounds closing to the public on 25 and 26 January for "security concerns."
Seven hundred and forty-five publishers participated in the fair this year, versus 800 publishers in 2010. After spending two weeks in the first post-revolution Cairo book fair, publishers spoke to Egypt Independent about their experiences, and the measures some took to reduce possible losses.
Sales varied throughout the two weeks, says Aref Saleh from Al-Ain publishing house. "The book fair started with almost no sales. It improved a bit when the fair reopened on 27 January. But since the Port Said events, things have gone downhill again," Saleh told Egypt Independent.
Saleh didn't buy into the "security concerns" arguments that closed the fair on the revolution's first anniversary, when some believed that the fair grounds could be a gathering point for protesters.
"This would have never happened, as the fair grounds [in Nasr City] are very far from the Downtown area, and its planned activities weren't relevant to what people are discussing now on the street," Saleh said.
Still, Al-Ain's management decided to only bring in parts of their book collection to avoid losses, and to bring in more books if the demand was there, Saleh explained.
Al-Dar publishing house preferred not to participate in the fair at all. "Holding the book fair in these circumstances is a real risk," said publisher Mekkawy Saeed.
"We are experiencing unusual times, so the International Publishers Association would have understood [if the fair had been cancelled] and not removed us from the list. But by insisting on holding the fair, we ended up with an inappropriate one," he added.
Some publishers, however, took a different approach. Unlike the cautious approach of Al-Ain, Afaq publishing house decided to be fully present at the fair. Manager Mostafa al-Sheikh told Egypt Independent that book fairs are currently their only opportunity to market their collection, as Afaq has only one bookstore — on Qasr al-Aini Street, located near the heart of recent events in downtown Cairo.
"I think the fair has been positive despite the low turnout, because we were expecting no one to come. Some people did show up and bought books," added Sheikh.
Afaq first thought of displaying samples of their books, but found that this would require the same amount of money and effort, so they decided to bring in their whole collection.
For many foreign publishers, losses were doubled due to the additional shipping costs. But some circumvented this obstacle by storing their collections from last year in Cairo after the cancellation of the fair, then showcasing them in this year's edition, hoping to make up for their losses.
Fady Aboud, the owner of the Lebanese publishing house Kotobna, said that he was happy to participate in the book fair as it is one of the most important meeting hubs for publishers worldwide. Still, he complained about some logistical problems, saying that they had to buy book shelves on the black market.
Aboud said he displayed last year's book collection, in addition to a small selection of new books.
The new Emirati publishing house Madarek sold most of their book collection to bookshops before flying in. "We decided we would ship in more books if we sensed a rise in local demand," marketing director Ahmed Gado told Egypt Independent.
Gado added that he felt there was less censorship this year. Although a Madarek author, Bahraini writer and media freedom activist Ali al-Dairi, was refused entry into Egypt at the Cairo airport last week and told he was on a national security watch list, the fair still sold his book "Outside the Community." Dairi was planning to hold a book signing and meet his fans.
Despite repeated complaints about organizational problems and low turnout, some publishers remain hopeful and feel that it is important to hold book fairs in light of the ongoing Arab Spring.
Essam Abu Hemdan, the owner of Al-Saqi publishing house, said, "We trust the Arab uprisings and we want to prove that we are supporting them, so we came with our full strength hoping for a better future."
Abu Hemdan doesn't pay much attention to the "security concerns."
"The people are waiting for us, so we won't keep them waiting out of fear of illusory security concerns."