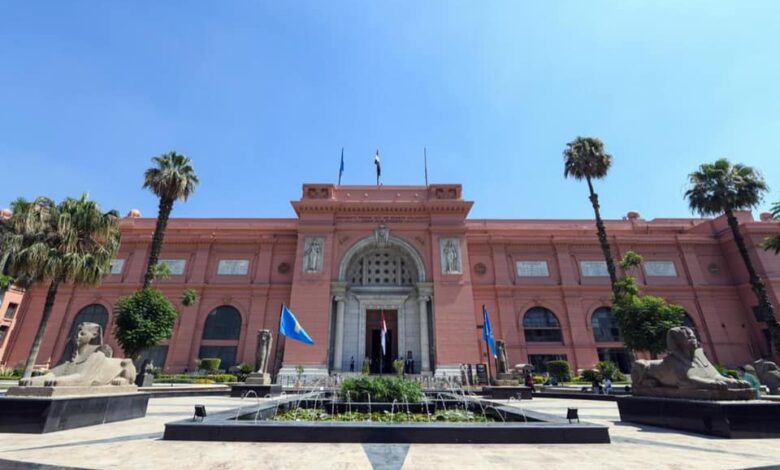 The Egyptian Cabinet's Media Center on Sunday denied rumors spread online claiming that the Egyptian Museum in Tahrir would be demolished after the opening of the Grand Egyptian Museum (GEM).
The Media Center said it contacted the Tourism and Antiquities Ministry, which denied the news.
It stressed that the Egyptian Museum in Tahrir is one of the most important and famous archaeological buildings in the world, and can never be harmed.
In April the United Nations Educational, Scientific and Cultural Organization (UNESCO)'s World Heritage Committee had added the Egyptian Museum to its list of tentative World Heritage sites, and in July the Heritage Committee of the Islamic World Educational, Scientific and Cultural Organization (ISESCO) approved the museum's inclusion into its heritage list.
The statement stressed that these come in full recognition of the museum's world heritage value, and added that a state project is underway to upgrade the museum's tourism services provided in it.
It urged all media outlets and users online to carefully check the accuracy of any statement they are sharing, and to communicate with concerned authorities before publishing information that could damage Egypt's tourist reputation.
The Egyptian government announced in June 2019 the start of a project to develop the Egyptian Museum in Tahrir at a cost of 3.1 million euros.
The grant will be implemented in cooperation with European experts in museums and museum exhibition curation in order to enhance the Egyptian Museum, improve its efficiency, enhance the experience of Egyptian and foreign visitors and raise museum's economic impact by getting it on the UNESCO World Heritage List.
The project will be implemented over three years.
A consortium of five European museums as well as the French Institute for Oriental Archaeology (IFAO) and the Central Institute of Antiquities will develop a strategic vision for the project within international standards.
The participating museums are: the Egyptian Museum in Turin, Italy, the Louvre Museum in France, the British Museum in England, the Egyptian Museum in Berlin, Germany, the national archaeological museum of the Netherlands, in Leiden.
Each museum will provide its expertise and scientific and international skills to present the best methods of museum science and ensure the implementation of the project with the latest scientific methods.
A file for the Egyptian Museum in Tahrir will be prepared for submission to UNESCO for inclusion in the list of world heritage sites.